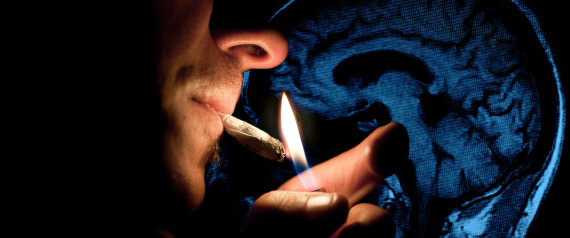 by Arianna Huffington
Human beings sometimes have a troubling inability to hold two thoughts in mind at the same time. This is true not only when the two thoughts contradict each other but even when they simply appear to be in conflict with each other but actually aren't. And nowhere is there a greater need for us to get past this tendency than when discussing the ongoing war on drugs and the growing movement for the decriminalization of marijuana. It should be possible to say both that:
1) The drug war is an all-out disaster that has inflicted an untold amount of unnecessary human suffering. Therefore, as a first step toward ending this failed war, we should continue with the movement toward the decriminalization of pot.
And that:
2) There is scientific evidence of the dangers of pot on the development of adolescent brains, and for users of any age who end up abusing the drug. So, as we decriminalize, we should take every step possible to minimize the harm.
Those two positions are not actually contradictory, but in the polarized, zero-sum world that passes for policy debate right now, many act as if they are.
For the last 15 years I have been writing and speaking about the imperative of ending the disastrous war on drugs. In fact, in 2000, when I organized shadow political conventions to spotlight the major issues that neither political party was seriously addressing, the failed war on drugs was one of the three issues that we chose (growing inequality and the need for campaign-finance reform being the other two).
So it is definitely cause for celebration that the drug war, at least when it comes to pot, is finally deescalating. And after years of slow progress, the issue is gathering momentum. On Sunday The New York Times, in the first installment of a six-part interactive editorial, called for an end to prohibition. "The federal government should repeal the ban on marijuana," the editorial states. "We reached that conclusion after a great deal of discussion among the members of The Times's Editorial Board, inspired by a rapidly growing movement among the states to reform marijuana laws."
It's about time, as the drug war has been one of the worst domestic-policy catastrophes in American history. The human toll has been staggering. Drug offenders make up fully half of our massive inmate population. Of those, nearly 28 percent are locked up for marijuana-related offenses. In 2012 some 658,000 people were arrested for marijuana possession, and fighting marijuana use alone costs federal and state governments $20 billion a year. And the targets of the war on drugs have disproportionately been people of color. African Americans, for instance, make up 14 percent of habitual drug users yet constitute 37 percent of those arrested on drug charges.
So while we fight to change our drug laws, let's do so with a full understanding of the science. The effects of marijuana are not easy to study; people don't use it in the clean ways it's studied in labs. But we do know that in addition to marijuana providing relief to people undergoing chemotherapy and those suffering from glaucoma, multiple sclerosis and AIDS, among other conditions, there is clear evidence of the harmful effects on adolescent brains and on those who become addicted to it.
So let us not make the mistake — the same one that climate-change denialists have been making — of ignoring the science that we are afraid will weaken our position. Indeed, as we move toward legalization, let's put the science front and center. One of the worst things about the drug war is the way its proponents ignore the facts in favor of dogma. Let's not make the same mistake as we move toward legalization…
more…
http://www.huffingtonpost.com/arianna-huffington/this-is-your-brain-on-legal-drugs_b_5628610.html