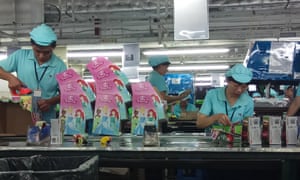 Undercover investigation by China Labor Watch exposes low wages, hazardous chemicals and overtime beyond legal limits
Xiao Fang thinks she's one of the luckier workers making Barbie dolls for the Christmas market at the Mattel toy factory in Chang'an.
True, she says, she works 11-hour days, six days a week, and shares a dormitory with nine other women and gets to see her husband only once a week. She had to leave her three-year-old daughter back home in Sichuan. And there is only a communal bathroom, and if they want hot water they must fetch it from another floor. But at least she has a job, she says. And others have it worse.
Xiao is one of thousands of workers in Chinese factories making some of this year's must-have Christmas toys.
An investigation with the US-based NGO China Labor Watch reveals that toys including Barbie, Thomas the Tank Engine and Hot Wheels were made by staff earning as little as 86p an hour.
Overtime can run to nearly three times the legal limit. In some factories – including one producing Happy Meal toys for McDonald's from the new DreamWorks movie Trolls – that means some are on 12-hour shifts and have to work with hazardous chemicals.
According to China Labor Watch, the world of toys may be heaven for children, but it is a world of misery for toy factory workers.
The group's founder and executive director, Li Qiang, said: "We can't tolerate that children's dreams are based on workers' nightmares, and we must fight against the unfair oppression of workers who manufacture toys."
Undercover investigators infiltrated four factories, and the group shared wage slips and pictures with the Observer to support their findings.
The investigators said that they found workers making toys in factories supplying Disney, Mattel, Fisher-Price and McDonald's who reported having to do more than 100 hours of overtime a month – nearly three times the legal limit in China.
But the toy industry's own watchdog, the ICTI Care Foundation, says it is powerless to stop many Chinese factories breaking the law on overtime.
"The reality is, across the board, most factories, or the vast majority at least, work way beyond legal limits in China, and legal limits are almost universally ignored," said Mark Robertson, ICTI Care's director of communications. "Our position is, we want transparency. We want to know how many hours are worked in the factories, so we can make sure workers are paid for every minute that they work."
Some of this year's must-have brands were made in the factories visited by the undercover team. At the Foshan Nanhai Diecast Company factory the basic salary for workers was just 86p an hour. Toys photographed inside the factory included Thomas the Tank Engine Minis and Hot Wheels Guardians of the Galaxy, as well as the Cars Piston Cup racing garage and the Fisher-Price Learn with Me Zebra Walker. Fisher-Price is owned by Mattel.
Working all available overtime and with all allowances and deductions applied, a worker takes home far less than the average wage in Chinese cities of £715 a month.
An undercover investigator who joined the company as a worker described having to work with isoamyl acetate – commonly know as banana oil – which can soften and dissolve plastics. The investigator worked on a production line and came into direct contact with the substance, reporting that some workers had complained to management about the strong odour…
more…
https://www.theguardian.com/business/2016/dec/04/the-grim-truth-of-chinese-factories-producing-the-wests-christmas-toys