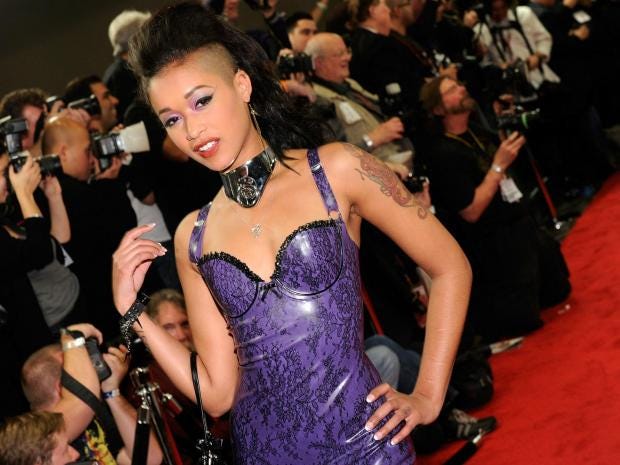 Raylin Joy Getty Images
Only those who have worked within the industry truly understand what it means to be an adult actor, yet their voices are often unheard in the debate. In a series of interviews, performers tell The Independent what they want you to know about their line of work
by Heather Saul
Porn and stigma are inextricably linked. We know porn consumption is on the rise thanks to the readily available adult material flooding the internet. We have analytics to tell us what types of porn are the most popular depending on the country and even data illustrating how viewing habits differ by generation. But while views on the adult industry are increasingly progressive, the widely held perceptions of the women and men in the frame remain static.
Raylin Joy, a singer and actress in the Showtime mini-series Submission, is more commonly known by the name she took as an adult performer: Skin Diamond. Joy now goes by her real name and has stopped performing in adult films to focus on her music career.
Can you ever truly leave an industry where your work is permanently committed to the internet, replicated thousands of times and watched by millions? A number of prominent adult performers have completely retired from adult films to pursue other careers: Lisa Ann and Sunny Leone are two of the most famous to move on to other public facing but unrelated roles. Do you try to detach yourself from the identity you built within porn and rebrand, or continue with that identity but move forward in a different direction?
Joy is rebranding, but her past is not something she wants to hide. A sex-positive advocate, actress and singer, porn is not something she will deny as she transitions out of it. Her work in Submission,an erotic series exploring BDSM, looked directly to the films she has made during her career. Here, in her own words, she explains what it is like to be a porn star and what life is like after leaving the industry.
Why did you decide to work in adult films and how did you first get into it?
I actually got into in by accident. My plan wasn't to get into porn and to be a porn star. The opportunity kind of fell into my lap. I grew up in Scotland and I was going to fetish clubs in London and I was really involved in the fetish scene and Torture Garden and all that sort of stuff, so I was kind of doing risqué shoots anyway. I had modelled for Burning Angel before just doing a photo shoot and they asked me if I wanted to come to Paris and shoot some scenes. I was like, yeah I want to go to Paris, so I went and I did it. When I was there it wasn't how you'd think a porn set would be it, it was just a bunch of friends hanging out, having sex and getting paid. I just kind of thought that was really cool. Honestly, I thought it was just so much fun so I shot all my first scenes – like my first girl girl scene, my first boy girl scene, my first anal scene – all in that one week because I didn't ever think I would do it again. I was just kind of doing it for sh**s and giggles. Then fast forward a year when I was living in LA and very very broke, and not really doing anything else and the opportunity again just fell into my lap. I had a lot of fun with it so I thought, why not? So, here I am now. …
more…
http://www.independent.co.uk/news/people/conversations-with-porn-stars-life-after-leaving-the-industry-a7464161.html