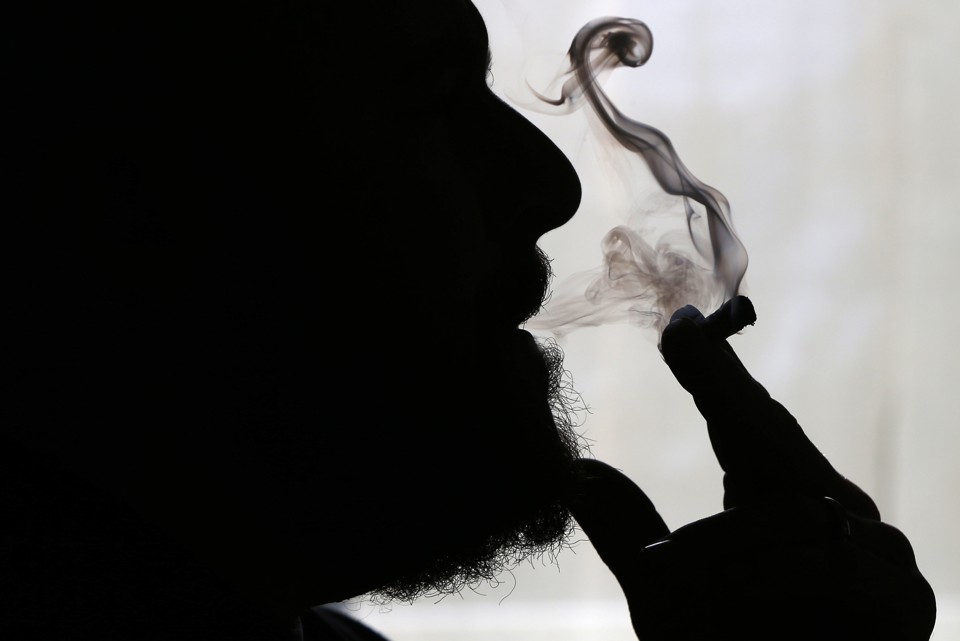 Robert F. Bukaty / AP
The question is proving difficult for police, and the courts, to answer.
Late one February night in 2013, Massachusetts state trooper Eric French pulled over a blue SUV with its rear lights out. When he approached the car, he saw smoke and smelled pot. The driver, Thomas Gerhardt, could count backwards from 75 to 62 and recite the alphabet from D to Q. But he couldn't stand on one leg or walk nine steps and turn, standard measures on a field sobriety test. The trooper determined that Gerhardt was impaired, and he was arrested and charged with driving under the influence of marijuana.
Was Gerhardt even high? And if he was, was he too high to drive safely?
This month his lawyer argued before the state's high court that French proved neither that night.
Massachusetts is one of eight states, plus the District of Columbia, where recreational marijuana use is now legal. Twenty more states have legalized use of medical marijuana. But science and the law have not kept pace with this rapid political change.
We take for granted that not being able to walk a straight line or stand on one leg means that you're drunk, and that being drunk means it's unacceptably dangerous to drive. But there is no clear scientific consensus when it comes to smoking pot and driving. And few of the tools police officers have long relied on to determine whether a driver is too drunk to drive, like a breathalyzer, exist for marijuana.
Cases like Gerhardt's are on the front lines of a new effort in courtrooms, labs, and government agencies around the country to pin down how high is too high to drive—and how to reliably know when someone is as high as that.

Most (but not all) studies find that using pot impairs one's ability to drive. However, overall, the impairment appears to be modest—akin to driving with a blood alcohol level of between .01 and .05, which is legal in all states. (The much greater risk is in combining pot with alcohol.) The increased crash risk with pot alone "is so small you can compare it to driving in darkness compared to driving in daylight," says University of Oslo political scientist Rune Elvik, who conducted several major meta-analyses evaluating the risk of drugged driving. "Nobody would consider banning people from driving in the dark. If you tried to impose some kind of consistency standard, then there is no strong case, really, for banning it."

When it comes to alcohol, science and the courts have long established a direct line between number of drinks, blood alcohol level, and crash risk. As one goes up, so do the others. Not so for pot. Scientists can't say with confidence how much pot, in what concentration, used in what period of time, will reliably make someone "high." (This is especially difficult to gauge because most of the existing studies used pot provided by the National Institute on Drug Abuse, which tends to be a lot less potent than what smokers can buy on the street or in pot shops.)
Blood levels of THC—tetrahydrocannabinol, the chemical component of pot that makes you high—spike quickly after smoking and then decline rapidly in the hours afterwards, during the window when a smoker would feel most high. What's more, regular smokers could have THC in their blood for days or weeks after smoking, when they are clearly no longer high.
Still, laws in 18 states tie drugged driving charges to whether drivers have THC (or related compounds) in their blood. Some states prohibit driving with any amount, and some specify a threshold modeled after the .08 limit states use for blood alcohol. But the lag time between being pulled over and being transported to a hospital for a blood draw—on average, more than two hours—can lead to false negatives, while the tolerance developed by regular users (and the tendency for THC to stick around in their bloodstreams) can lead to false positives. This is why, researchers say, blood THC laws make little sense.
"If you're stopping someone who just tried it or uses it occasionally, a little bit of THC goes a long way—they're very impaired," says Washington State University political scientist Nicholas Lovrich. "But people are demonstrably able to drive at high levels of THC if they're a frequent user."…
more…
https://www.theatlantic.com/politics/archive/2017/01/too-stoned-to-drive/513404/