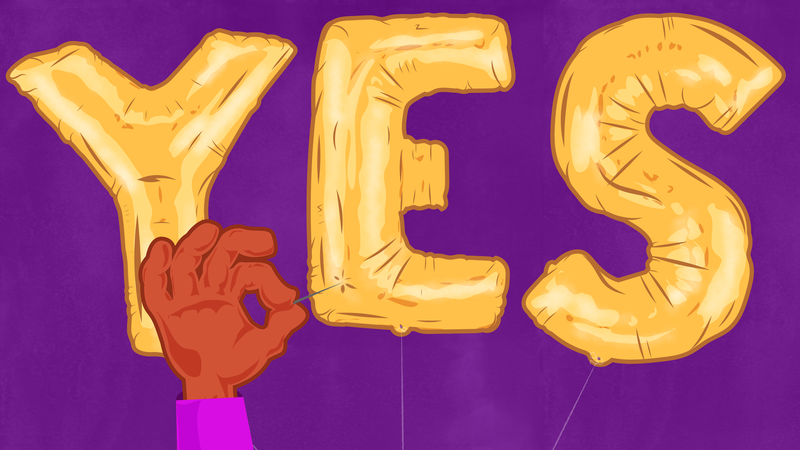 Half an hour had passed and I sat in my car, waiting for my habitually tardy friend to arrive so I could help her move. Resentment and anger started to build. But when she texted, "So sorry, be there soon," I replied, "No worries! Take your time 🙂 " I'd had it. I was really sick of this being nice shit.
Agreeable Versus Too Agreeable
Over the years, I've developed a problematic habit of taking my agreeableness too far. Being agreeable isn't a bad quality. In psychological terms, being agreeable usually means you're an empathetic person who craves social harmony. That's great, but sometimes it manifests itself in a really disingenuous way.
Part of my agreeability has to do with empathy and understanding, but being understanding often goes hand in hand with the desire to be understood. In other words, we're nice to people because we want them to be nice to us. It's what we learned in grade school, after all. A big part of my agreeability is that I want people to like me and know that I'm a good person. It sounds sweet and all, but it's actually a narcissistic need: I even want people to like me when I don't like or care about them.
For this reason, agreeable people are often too nice. We agree to tasks we don't have time to do. We agree to call a truce when we're still hurt. We agree with opinions we don't believe. And we agree to it all in the name of being loved and understood because we think pleasing others, somehow, will make us better people.
In The Book of No, social psychologist Susan Newman explains:
We live under this misconception that saying yes, being available, always at the ready for other people, makes us a better person, but in fact it does quite the opposite. You get stressed and anxious; you're viewed as a patsy.
It's obvious to see how this becomes a problem. You get so used to pleasing the people around you that after a while, you hardly remember what pleases you. This is why too-agreeable people are also frequently indecisive. We don't know what we want because we overvalue what other people want.
When Being Too Nice Backfires
Ironically, most people are displeased by people-pleasing. It's a turnoff, and research like this 2010 study published in the Journal of Personality and Social Psychology supports this. Researchers asked subjects to play a game that included both individual and group rewards. They looked at how people reacted to selfish moves versus generous ones. You'd think they would like the generous players, but they actually disliked them just as much as the selfish ones:
An initial study investigating tolerance of group members who abuse a public good surprisingly showed that unselfish members (those who gave much toward the provision of the good but then used little of the good) were also targets for expulsion from the group. Two follow-up studies replicated this and ruled out explanations grounded in the target being seen as confused or unpredictable.
Why did they want the nice players out of the game? The study pointed to two reasons. First, researchers suggested that the overly agreeable players made everyone else feel bad about themselves. Second everyone else also viewed the agreeable players as "rule-breakers," in a way, because they weren't sticking to standard norms for civility; they were overdoing it. And yep, the other members actually wanted to oust those players from the group. Trying too hard to be nice can actually make people treat you worse.
It doesn't just apply to hypothetical games, though. In 2011, University of Notre Dame researchers found that agreeable employees earned significantly less than disagreeable ones. Specifically, agreeable men earned 18% less than disagreeable men while agreeable women earned 5% less than disagreeable women (the study suggested that agreeableness is perceived to be a more acceptable trait in women, so the gender gap is wider between disagreeable men and disagreeable women). When you're too agreeable, you usually don't rock the boat too much, and that can lead to becoming a pushover. It sounds obvious, but it helps to have numbers to back it up…
more…
http://lifehacker.com/the-problem-with-being-too-agreeable-1791893359