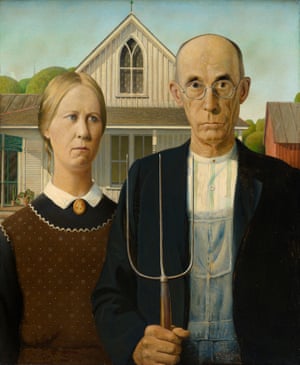 'The most famous painting in American art': Grant Wood's American Gothic (1930) . Photograph: The Art Institute of Chicago, friends of American Art Collection
The US's most famous, and most parodied painting is about to visit London for the first time. We examine the many interpretations of Grant Wood's masterpiece
American Gothic – the long-faced couple standing sentry before their wooden house in apron and overalls, pitchfork in hand – is the most famous painting in American art. It is instantly recognisable to millions of people from Oregon to Osaka who hardly know its name, still less that of the painter.
In its comparatively short life (it was made in 1930), Grant Wood's masterpiecehas become one of those rare paintings that are constantly quoted in spoofs, advertisements, movies and cartoons, so familiar they can be readily invoked in a quick sketch or even just by one detail, such as the arched window. Even if we do not know its title, American Gothic is by now as proverbial as the Mona Lisa, The Starry Night and The Scream, a point not lost on parodists who have Photoshopped Van Gogh's stars into the Iowan skies above that pointed roof, introduced Leonardo's Lisa into the family romance and even married Grant Wood with Edvard Munch. A Gothic Scream flipbook is available – two for the price of one – that morphs the stern midwestern farmer into the Norwegian screecher.
But is he in fact a farmer, this man from whose powerful hand the pitchfork grows like a tree? It would be an understatement to say that opinions have differed over the years. For this stupendous image – apparently as plain and direct as the small-town Iowans it portrays, apparently as simple as the summer setting – turns out to be uniquely controversial and mysterious. Is it a celebration of these hardworking folk, upright in their moral values, steadfast against the terrible deprivations of the Great Depression, as so many Americans have believed; or is it slyly satirical? Is Wood painting a hymn of praise to his neighbours in Cedar Rapids, or sending up their strict narrow-mindedness? When the painting flies into this country, centrepiece of America After the Fall: Painting in the 1930s at the Royal Academy, many British viewers will have their first chance to decide. For American Gothic lives mainly in reproduction, intensely memorable even to those who have never seen it in person. Its staying power is exceptional in every respect, for the painting has never before left the United States.
It is the clarity of the image that strikes first: neat as a pin, well made as the wooden house, pristine as the woman's ironed pinny. Everything fits and everything is in perfect order. Flat, graphic, meticulously detailed, as rigidly frontal as a Renaissance portrait, each part so crisp and distinct, it is no wonder Wood's painting lends itself so well to reproduction (and jigsaw).
Here is an American Eden of blue skies and plump trees, peopled by a pinched Eve and a work-hardened Adam, their labours rewarded by sheer survival, their virtue enshrined in the church-like facade behind them. It appears to be almost a primer of rural life. But some see the man as a hellfire preacher rather than a farmer, his pitchfork the prop for some pitiless sermon; others view him as a small-town clerk, home from work and out in his denims to hay the cows in the barn.
The woman is his supportive wife, stiff as her pioneer husband; or perhaps she is his maiden daughter, whose honour he is defending with that pitchfork (Robert Hughes's goatish opinion). Perhaps, with her antique brooch and outmoded braid, she really believes in old-fashioned values; or maybe she is about to bolt from this prison, the telltale curl of hair escaping like a sign of the future.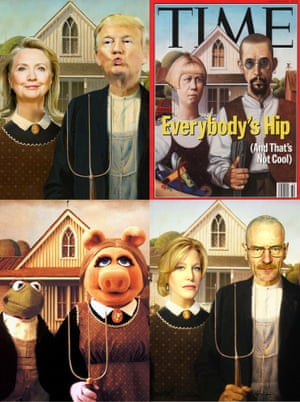 They are a sanctimonious pair, probably unforgiving Republicans, straitlaced as their clothes, with no music in their life; or they are the opposite: American heroes, prairie puritans carrying on the spirit of the founding fathers, living the hard life but never giving up – even during the disastrous drought of 1930, when there was practically no hay to pitch.
Every opposing interpretation has spawned a spoof, and even the spoofs have their imitations. American Gothic has become arguably the most parodied painting in history. Lyndon and Lady Bird, Ronald and Nancy, Bill and Hill, Barack and Michelle, Barbie and Ken, Homer and Marge, Kermit and Miss Piggy (the cameo brooch now showing a porker) have all stood in front of that facade, as Donald and Melania surely will if they haven't already. The building is almost as famous as that other White House; the painting cannot resist partisan politics. And every time these spoofs appear, proposing the dour duo as representative Americans of one stripe or another, they communicate the beautiful lucidity of the painting, with its dovetailed composition, and yet the mystery of it too.
About its origins, and the painter, a great deal is known. Grant Wood was born in Anamosa, Iowa, in 1891. He was only 10 when his father died and his mother moved her small family to Cedar Rapids. Here he went to boarding school, laboured for dimes in a metal shop, and eventually managed to get himself into the School of the Art Institute of Chicago in 1913. His early paintings of the rolling Iowan landscape are appealing, if anonymous, but in the 1920s he made four trips to Europe and was stunned by the northern European painters he saw there, particularly in Munich. He admired Dürer, Van Eyck and Hans Memling; his paintings learn from their stark frontality, intense precision and simplicity of form. He was even dubbed the Iowa Memling by the New York art writer Lincoln Kirstein…
more…
https://www.theguardian.com/artanddesign/2017/feb/05/american-gothic-grant-wood-royal-academy-spoofs