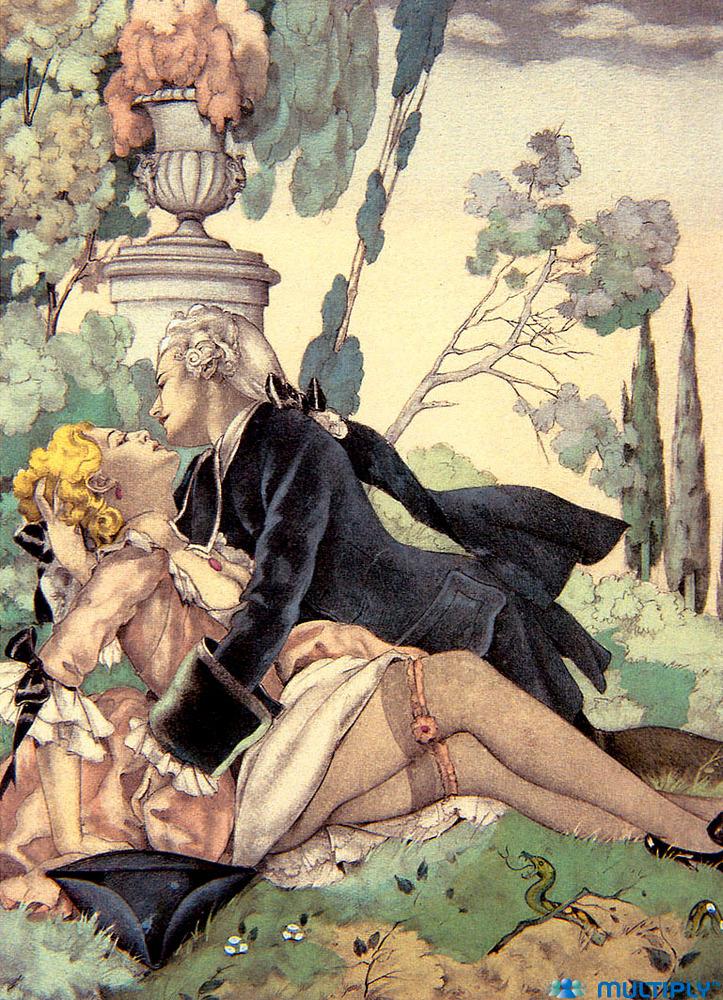 Illustration by Brunelleschi from a 1755 edition of Memories of Giacomo Casanova de Seingalt. Photo by akg-images/Fototeca Gilardi
His name is synonymous with serial seduction but Casanova's memoirs reveal a man greater than the sum of his 'conquests'
Everyone thinks that they know about Casanova, the legendary lover who proceeded from one romantic conquest to another, but almost no one really does. They believe that he was handsome, distinguished and practised in the arts of love, a virtual Zorro of the boudoir. That he was a wealthy member of the upper class, and celebrated in his lifetime for his exploits. So runs the fable of the great lover.
In reality, Giacomo Girolamo Casanova was a far more complex and intriguing figure, a libertine, to be sure, but so much more. And – in case there is any doubt – he was a real person. Born in Venice on 2 April 1725, he was the obscure son of a somewhat famous actress and courtesan named Zanetta Farussi and a forgotten actor, Gaetano Casanova. If anyone in this modest family qualified as a 'Casanova', it was his mother Zanetta with her love affairs and wiles and penchant for abandoning him. At the start of 1726, the New Theatre in the Haymarket in London hired his parents along with an ensemble of Italian comedians; Zanetta and Gaetano left Giacomo in the care of his grandmother Marzia. A little more than a year later, Gaetano and Zanetta's second child, Francesco Giuseppe, was born, and baptised on 1 June. Rumours described him as the bastard child of King George II.
In Venice, meanwhile, young Giacomo suffered from nosebleeds that he said affected his ability to think. His environment was equally problematic. The Republic of Venice, as it was known, was extremely hierarchical, and ruled by 400 families registered in the Libro d'Oro, or Golden book, a directory of Venetian nobility. This rigid structure was destined to collapse under its own weight but, at the time, Venice thrived on sin; it was the Las Vegas of its day. Tourists came from across Europe to sample its gambling dens and its courtesans, and other illicit pleasures. Some convents functioned as harems for the daughters of wealthy families who did not want the girls to marry or to bear children. Under cover of religious vocation, they entertained well-heeled admirers and staged orgies. In time, a 'nunnery' became a synonym for a 'brothel', as Hamlet said to Ophelia. 
As the son of actors, Casanova had no place at all in Venetian society, decadent or otherwise. Actors were outcasts. They couldn't even be buried in consecrated ground. For Casanova, a career in the clergy was the approved way up and out of the restricted circumstances of his birth. It was a path to education and a secure status in a society. He himself did not feel a sense of religious calling; quite the opposite. He was cynical about the whole experience and wrote about it in amusing, occasionally caustic terms. He did get a sense of excitement when he began preaching sermons, but for Casanova the most important part of the experience was the impression he made on women. 
In time, he found a quicker path to women and status as a successful gambler, and left the priesthood, although throughout his life he benefited from the classical education he had received. So he spent the rest of his life manufacturing identities to overcome the disadvantage of low birth. He styled himself as the Chevalier de Seingalt, appropriating a title to which he had no claim. On this basis, he managed to ingratiate himself with the aristocracy, and to gain access to women of the upper echelons, who were, at least in his account, taken in by his impersonation of an aristocrat. Each time he seduced an upper-class woman, he had a sense of evening the score, of striking a blow for the common man.
Casanova claimed that he bedded 124 women – not a lot, perhaps, by the current yardstick of some celebrity memoirs, but more than enough to qualify for libertine status, so long as he did not marry – and he never did. 'Marriage is the tomb of love,' he wrote in his memoirs. Who was his greatest love of all the women in his life? A Freudian would answer: his mother, very possibly present in his subconscious because of her absence in his daily life. We know a few tantalising titbits about Zanetta. Ruthlessly ambitious, she abandoned him when he was a child to pursue her vocation as an actress. Casanova saw her infrequently during the rest of his life. She retired on a pension to Prague, at the time a centre of the arts, after a reasonably distinguished and scandalous career performing in commedia dell'arte…
more…
https://aeon.co/essays/is-there-more-to-the-legendary-lover-than-his-reputation