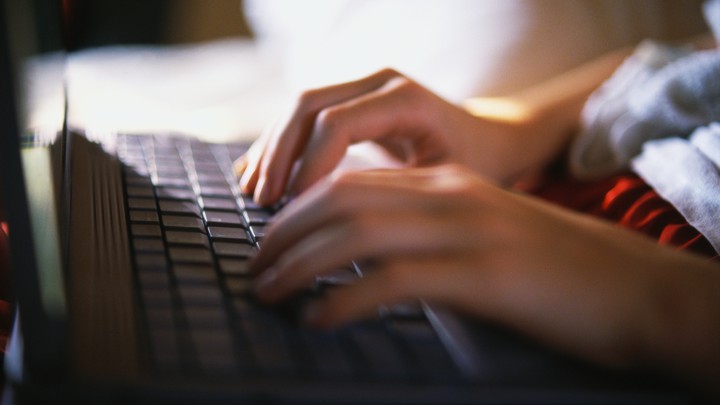 DAVID PAPAZIAN / GETTY
Many teens will be exposed to it anyway—often unintentionally—and they need the guidance of their parents to process what they've seen.
When I ask the students in my classes on pornography literacy and healthy relationships whether they'd tell their parents if and when they'd seen porn, they usually offer the same responses: No way! I'd be too scared; I feel ashamed; I'll get in trouble.

These kids are between the ages of 10 and 18. Just how likely is it that they have been exposed to mainstream porn? In a new survey—forthcoming from Bryant Paul, an associate professor at Indiana University's Media School—39 percent of 14-year-olds report having seen porn, with about a third of young people saying they'd seen it for the first time at age 12 or younger. Paul's survey also found that 81 percent of adolescents ages 14 to 18 who had seen pornographic material had been exposed to it unintentionally—either coming across it online or receiving it unsolicited.

Seeing porn without enough context can be confusing and upsetting, and it regularly happens out of parents' sight. From what I've seen as a sexuality educator in the San Francisco Bay Area, parents aren't talking to their kids enough about making sense of the experience. And, in spite of the fact that more schools are having to deal with incidents involving sexting and the production and distribution of sexual imagery by students, many sex-ed classes and schools aren't addressing it either. Without any meaningful guidance, children are being left to their own devices—literally and figuratively—to make sense of the graphic content they intentionally or unintentionally encounter online.
Munisha Mehra, a pediatrician who practiced in Chicago but recently relocated to the Bay Area, says that in the last 10 years, she has seen an uptick in parents expressing concern about their children's porn consumption. Parents—both fathers and mothers—should talk to their kids about porn regardless of their own discomfort or viewing habits, she argues, because "the safety and sexual health of their kids should come first."

Talking to kids about porn, however, requires parents to go beyond setting internet filters or telling kids to abstain from looking at sexually explicit content, strategies that aren't foolproof themselves. More important, they don't open the lines of communication about sex and sexuality between parents and children, which could support children in decision-making and coming forward when they're confused or challenged by sexual content, information, or experiences. If parents begin to have age-appropriate conversations with their children about issues like consent, bodily autonomy, safety, and healthy relationships, these conversations can be the foundation for an ongoing dialogue about issues related to children's sexual health, including porn consumption, that could span years.

According to Jaclyn Friedman, a sex educator and the author of books such as Unscrewed: Women, Sex, Power, and How to Stop Letting the System Screw Us All, parents are too mired in the misperception that talking to children about porn is tantamount to telling kids to seek it out. "There's so much discomfort in our culture with talking about sex … and there's a fear of piercing children's innocence," she said. "[Without having] healthy conversations about communication, affirmative consent, respecting each other's bodies, and [kid's] right to boundaries, it's hard to talk about porn."  

In the absence of these conversations—both at home and at school—kids may lack the critical tools to make sense of the messages they're frequently hearing and seeing on screens. In my classes on consent, for instance, I've asked more than 200 middle schoolers to speculate on who they think should make the first move in heterosexual relationships. Most tell me that boys should initiate and that girls should always say "yes" in order to avoid hurting boys' feelings.

Mainstream porn—the sort that can be found most easily with the simplest of online searches—can amplify the harmful messages that middle schoolers are already getting every day about everything from the shape and size of their bodies to the rigidity of gender roles. And a general lack of opportunities to talk openly about sex means that porn—and some of the potential risks of exposure—usually goes unmentioned, too. In one study, researchers found that early exposure to porn correlated with a greater likelihood of earlier oral sex and sexual intercourse, and less progressive ideas about gender roles…
more…