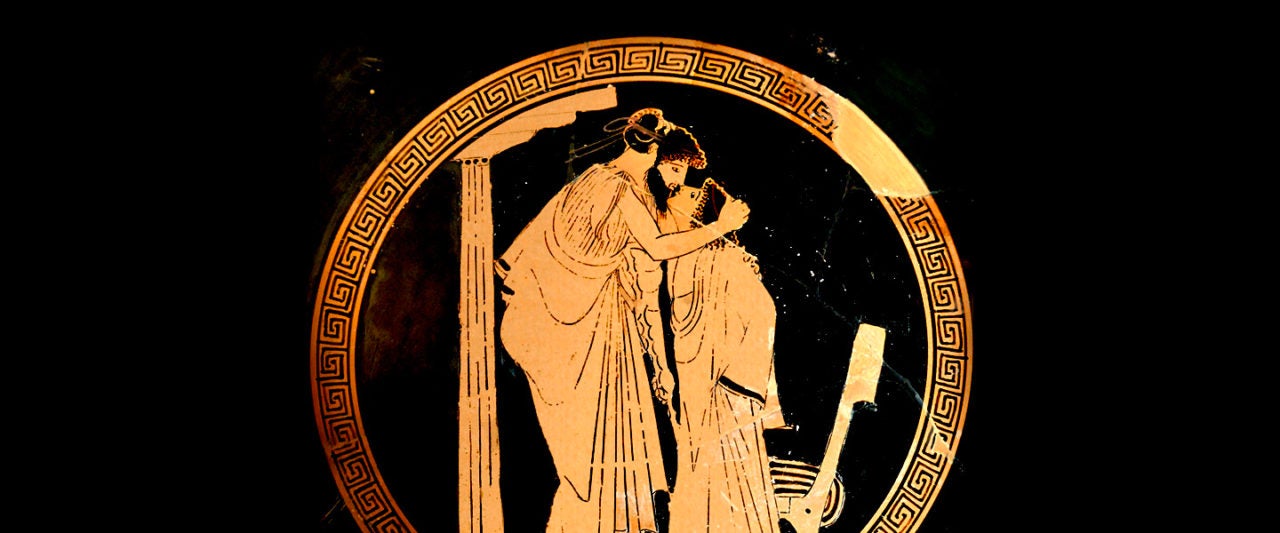 If Greek historian and researcher Herodotus is to be believed, ancient Babylonia — a civilization founded on the banks of the Euphrates River about two millennia before Christ — was a debauched, 2,000-year-long orgy. Writing in his infamous series of books The Histories — which are consideredto be the founding works of history in Western literature — he details the sex lives of Babylonians, describing everything from mandated sex rituals, to organized prostitution rings, to lavish, steamy Babylonian dinner parties that end in free-for-all orgies. In ancient Babylonia, he writes, it was sinful not to have sex.
Problem is, while Herodotus' accounts have been contemporarily accepted as fact, there doesn't appear to be much Babylonian evidence to support his more salacious claims. According to Dutch historical journalism site Livius, "That modern scholars have accepted Herodotus' words as a description of cultic prostitution … and have believed that it contained a kernel of truth, tells quite a lot about the fantasies of modern classicists and historians. In fact, it is likely that Herodotus is simply wrong, never visited Babylon at all, and is only to be trusted as a reliable source for common Greek prejudices about the oriental world." The "father of history," it appears, is also the father of good, old fashioned erotic fiction.
This brings up an important question: If we're going to base our present understanding of sexuality on information gathered from the past — one needs to look no further than Western marital practices or biblically based attitudes about homosexuality for evidence of that — how do we know our understanding is accurate?
Ensuring historical accuracy is the onus of sexual historians, anthropologists and archaeologists, a select group of people whose job it is to piece together clues from history in order to paint an unbiased, truthful picture of our sexual past. How they're able to do that, however, is a whole different story.
DILDO OR PESTLE?
According to Kate Lister of History Extra, sex history is a "relatively new field of study that has only been regarded as a legitimate subject for the last 40 years." Historically, academia's refusal to accept it as a valid topic had to do with shyness around sexuality, but it's also because sex is a difficult topic to research. Unlike other human practices like hunting or religion — which leave behind ample clues like specialized tools or temples — the only real evidence we have that sex occurred is, well, other humans. That doesn't tell us much about what kind of sex people were having, what they thought about it or whether it looked (or felt) anything like it does today, which makes the task of reconstructing humankind's sexual past difficult… but not impossible.
For Birkbeck College professor and sexual historian Matt Cook, tracing humanity's sexual history is a lot like piecing together a complicated, three-dimensional puzzle in which half the pieces aren't even visible. "There's a lot of retracing steps, collecting evidence and listening to silences," he says. "You have to look at what it means when a piece of evidence is not there."
Recently, Cook used these techniques during his research on queer spaces in 19th century Birmingham, England, where he was able to uncover a series of queer underground cultures and networks that surrounded the cramped, back-to-back houses of the largely straight, working-class neighborhood. To figure this out, he focused heavily on physical spaces, diving deep into the architectural and decorative layouts of people's homes and bedrooms. When combined with population data, autobiographies, memoirs, oral histories and courtroom records from the time period, these physical spaces told the story of a very crowded area with little privacy, something he says was likely responsible for creating a "vibrant public sex culture" that took place in parks and alleyways (a hypothesis he confirmed using judicial records from the time period).
Of course, it's only possible to reach that level of specificity when your studies concern more recent people or events (and it helps if your subjects were avid record collectors who built structures that still remain today). The further back you go, however, the blurrier the picture becomes. Thankfully, as sexual historian, sociologist, author and gay activist Jeffrey Weeks explains, there's no shortage of tools sexual historians can use to bring it into focus…
more…