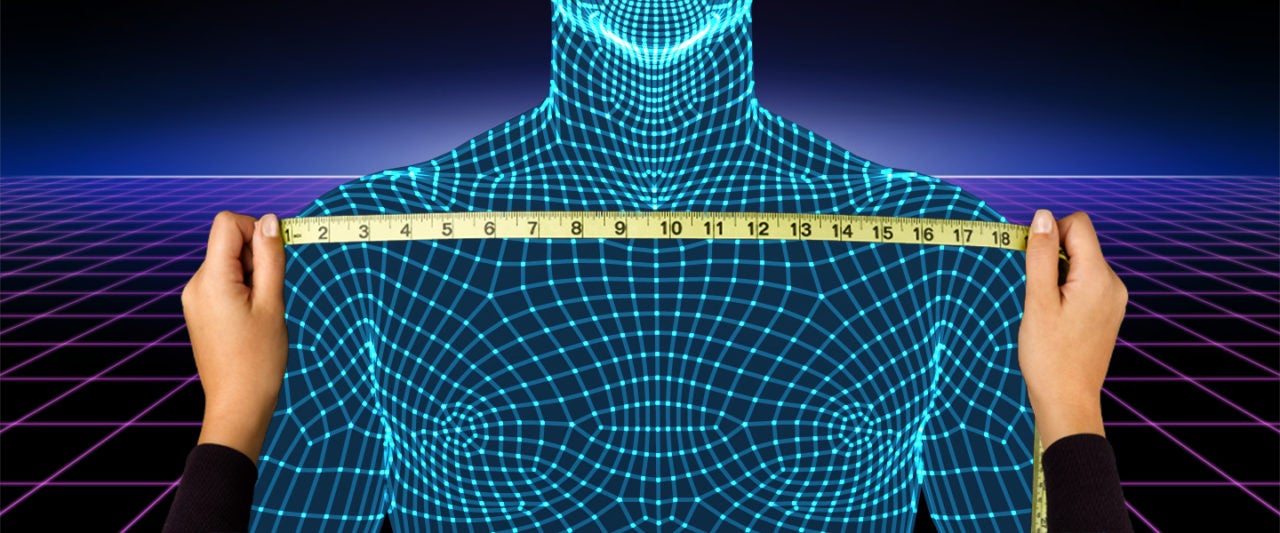 Will the future of fashion look like a full-body scanner, a Sims-style avatar or something far more futuristic?
Amidst the stay-at-home monotony, I'm trying to figure out if the hem on the black, pima cotton "classic" T-shirt, size small, from Buck Mason's web store, will be too long on me. Maybe the extra small would be better? But then, historically, extra small T-shirts have always felt a bit too… accentuating. My brain is turning into applesauce, but I spend nearly 30 minutes on Memorial Day evening toggling back and forth between the small and extra small T-shirt, torturing myself in this digital retail wasteland before abandoning the purchase entirely.
Why?
Because I know in my bones (which are clearly smaller than most) that despite the "size guide" — which makes no mention of the length — and despite the ostensibly helpful information that the model in the pictures is "6-foot-2, weighs 175 pounds and wears a medium," there's just no good way for me to know which size of this unremarkable $35 T-shirt will fit me. It's the all-too-familiar dance with the online retail machine that gives you every imaginable clothing option, but leaves figuring out your size to your imagination. Will the size 32 jeans from Levi's fit the same way as the size 32 pants from Banana Republic? Probably not, but there's no way to know until you've tried them on.
"Our chief analytics officer has a PhD in physics from MIT," says Romney Evans, co-founder and chief product and marketing officer of True Fit, a data-driven platform that helps retailers decode fit and size for their customers. "He's an astrophysicist. And he talks about how this [online sizing] problem is one of the hardest problems he's ever worked on."
In some respects, this sizing problem is the byproduct of a different sizing solution. The reason there's no standardized sizing really just boils down to the huge variability in human bodies across the population. "Probably the best way to solve it would be to have tons and tons of different sizes that are both length and curviness and width dimensions," Evans says. "And just create tons of permutations of sizing."
But since that's not practical from a design and manufacturing perspective, brands have had to create products for target segments of consumers who they believe their products will resonate with. "Every brand caters their sizing system to who they believe are their core customers," says Evans. "As such, their sizing system becomes a source of competitive advantage." An extreme example would be to take "a size four at Abercrombie and Fitch that's catering to a 17-year-old and an 18-year-old, and compare that to a size four at Chico's." "You'll see that the waist measurement could be inches different," he continues. "The reality is, and we've done studies on this ourselves, we can see that the average waist measurement of an individual as they get older increases. So if you think of the size distribution of a population of 45- to 65-year-olds, it would look very different than, say, the size distribution of the same number of 14- to 23-year-olds."
Buck Mason, the company whose T-shirt I spent my holiday weekend struggling with, claims their core customers are men between the ages of 18 and 65, which, clearly, indicates a wide swathe of body types. Because of this, they offer a "virtual fitting," which sounds like the future, but is only so in name. In reality, it's a video conference call with one of their style experts, who, with remarkable grace and patience, gives me "virtual" — albeit two-dimensional — access to their brick and mortar store.
"I'm here for any questions that you may have about sizing or color or whatever," says Jose, the style expert. "I'm here at the store, so I have access pretty much to the entire collection. If you have questions — like, maybe you have a pair of jeans and you want to know what to wear them with — I can also help you with that or how to build an outfit." The idea behind the virtual fitting process, he says, is to replicate the in-store experience as extensively as the two-dimensional camera will allow. But again, as far as sizing goes, even Jose admits that it's more difficult if you're unfamiliar with the sizing scale of their brand…
more…
https://melmagazine.com/en-us/story/virtual-fitting-mens-fashion