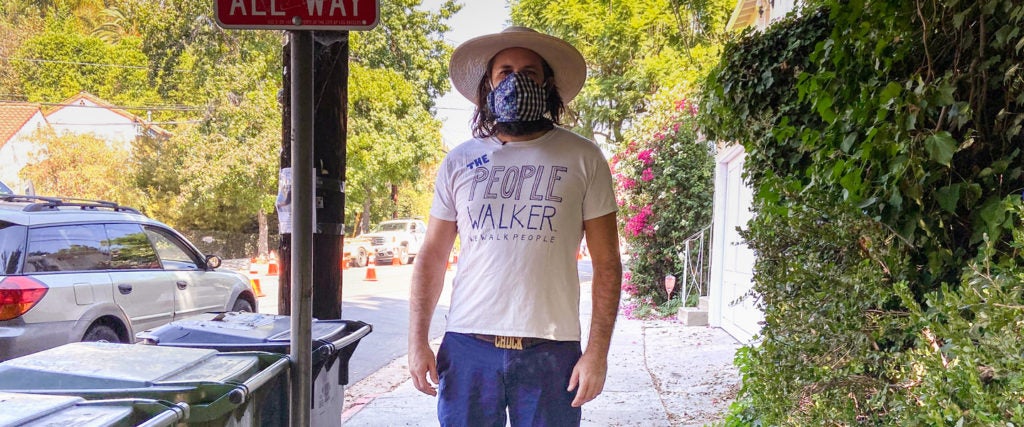 In Los Angeles, a man named Chuck has become a folk hero for one humble service: taking strangers on walks. He's proving the buddy system can change lives — one step at a time
Twice a week for the past month, I've paid an underemployed actor $30 an hour to walk me through the hills of L.A. like a Labrador. Chuck McCarthy isn't a dog walker, though; he's a people walker — the "People Walker," in fact — who has accompanied hundreds of strangers on foot for thousands miles since 2016, when he began walking people to earn a few extra bucks and get himself out of the house more. McCarthy is a bit coy about his age, given his primary profession, and his long shaggy beard makes it hard to pin down an exact number. He admits to playing characters "between 35 and 45," most recently a killer biker in a true-crime spoof on E!, but demand for such roles has waned with the pandemic. Fortunately, his supplemental income from walking humans has not.
I first learned about McCarthy from a TED Talk he gave last year. Only recently, though, did I book the service myself, hoping to infuse my coronavirus isolation with sustained human contact since I've regularly gone days without it over the last seven months. Along those lines, I contend the mental-health implications of COVID have disproportionately affected middle-aged, single men like me, as the pandemic dovetails with a similarly destructive epidemic more generally: male loneliness.
"I think something like the People Walker is incredibly sad and necessary, filling a real void for men," says Towson University sociologist Andrew Reiner, author of the forthcoming book Better Boys, Better Men: The New Masculinity That Creates Greater Courage and Emotional Resiliency. "The need for a people walker speaks volumes about the way American men are socialized and conditioned to be independent."
At 10:58 a.m on a Tuesday morning, in order to identify McCarthy, I scroll through his Facebook page to find a current picture while awaiting our first walk at a coffee shop in Hollywood's Franklin Village. I spot his trademark bushy beard first, along with a bedraggled mane corralled beneath a tan gondolier's hat, though any question about his identity are resolved by a belt buckle that reads "CHUCK" and a handmade T-shirt that declares the hirsute hulk lumbering toward me is, indeed, the People Walker.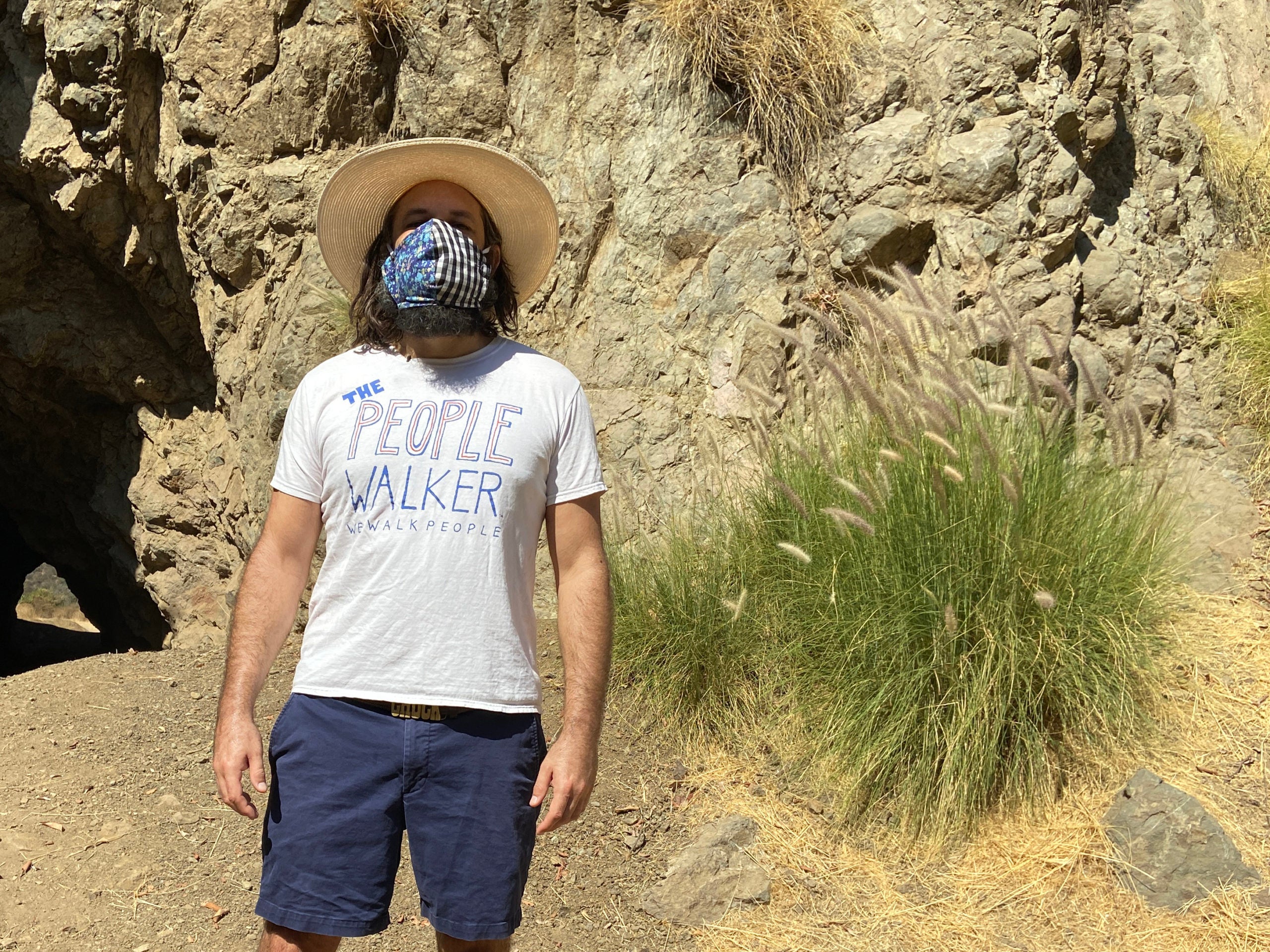 As we stride past a row of handsome houses, I hear the first of many car horns greeting McCarthy, who smiles and waves like a political candidate. This honk is from a guy named Turbo, whom McCarthy describes as "a kinda sensei" and his inspiration for acting, given that Turbo's been known to go 10 years without booking a role. "You just have to just keep going," he says, slightly increasing our pace, "kinda like walking."
Most of our first walk consists of small talk. While small talk has long been maligned as a waste of time, recent studies indicate people are happier when they talk to others, no matter how frivolous the conversation. For his part, McCarthy considers small talk "the building block of friendship based on shared experience," a fundamental component of his mission. It's essentially a calibration, he says. To that end, on our first walk, we've established that it's 20 degrees hotter than the day before and that my water bottle is leaking, giving us the option to move on to more consequential subject matters should we please. "The absence of small talk is why it's so hard to have any kind of conversation about politics online, because you don't first establish that you're even in the same universe," McCarthy tells me.
When we arrive at a hollowed-out cavity along the trail — a former rock quarry whose guts McCarthy says were used as freeway pavement, among other things — I'm struck by a pang of deja vu. Effortlessly shifting into tour-guide mode (a classification he resists), McCarthy explains that it's the cave from the movie Palm Springs and the Batcave from the 1960s Batman TV show. So many places in L.A. are things we've seen throughout our lives on TV, I note in return.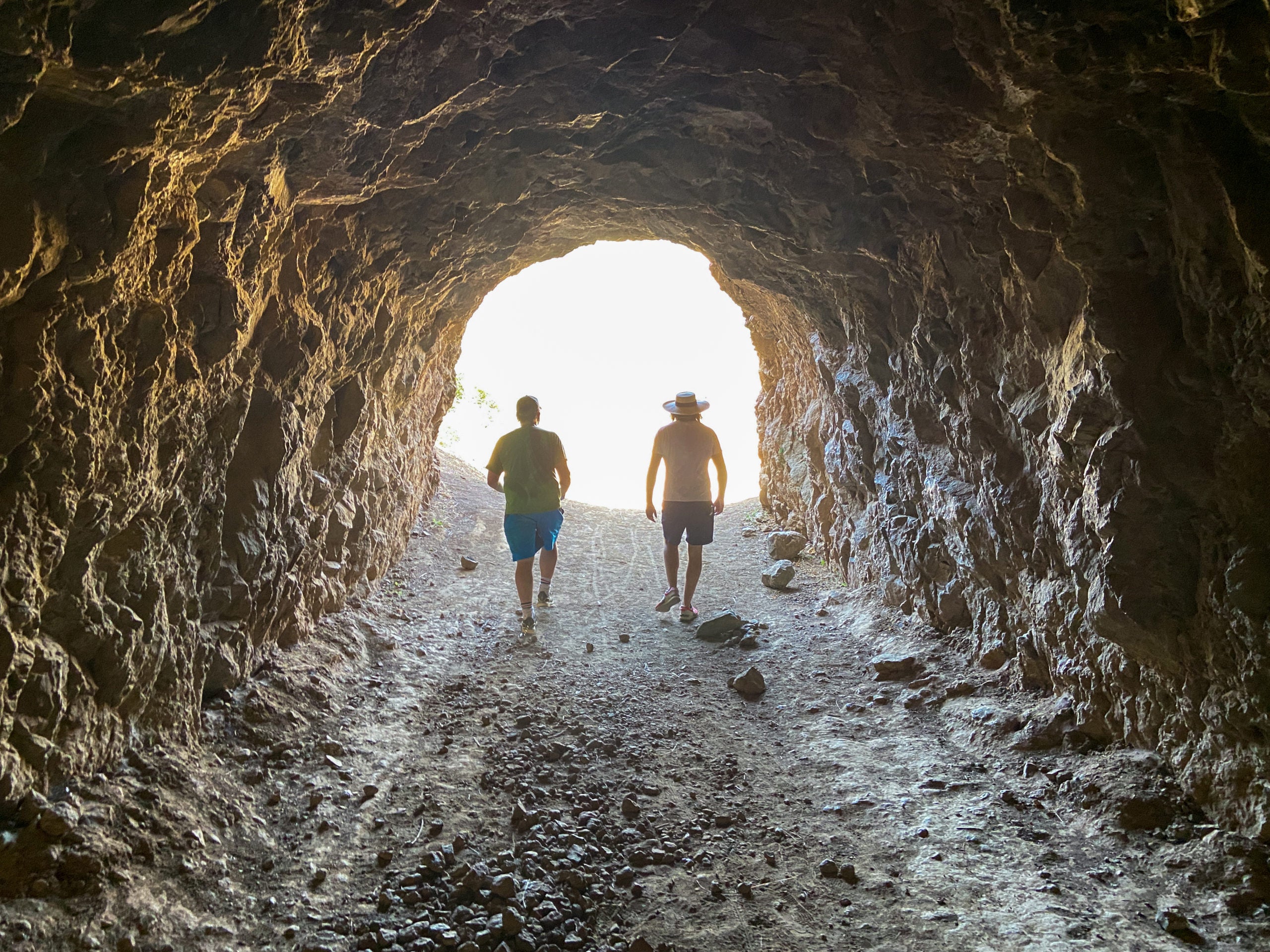 As the small talk continues, the cadence of our steps naturally falls into a synchronized rhythm, and I'm reminded of a term — "entrainment," or the rhythmic physiological events that match a natural environment — employed by Kathleen Hall, founder and CEO of the Stress Institute and Mindful Living Network, who has spoken with presidents, Supreme Court justices, CEOs and the Dalai Lama about their practice of walking and reflection. "There's a rhythm to nature," she explains. "Birds, dogs, leaves — it all slows you down."…
more…
https://melmagazine.com/en-us/story/the-people-walker-chuck-mccarthy