Polyamory is a broad relationship structure that allows for more than one romantic relationship to be active at a given time. And within that dynamic, a variety of different, smaller relationship structures can emerge. One of these is a vee relationship: a three-person dynamic where one partner is very involved with the other two, and those two are less involved with each other.
"Polyamory is a consent, communication, and honesty driven relationship structure that allows folks to engage in many loving relationships," says queer- and polyamory-inclusive sex educator Lateef Taylor. With a vee relationship, specifically, one partner is known as the "pivot" (or "hinge," "point," or "connector"), and the other two typically already "have a familiar or friendly connection…or purely physical connection. But they don't have a romantic interest in one another," they add. If there were a romantic interest between all members of the vee relationship, it would be called a "triad" or "throuple," which describes a group of three people in a loving relationship.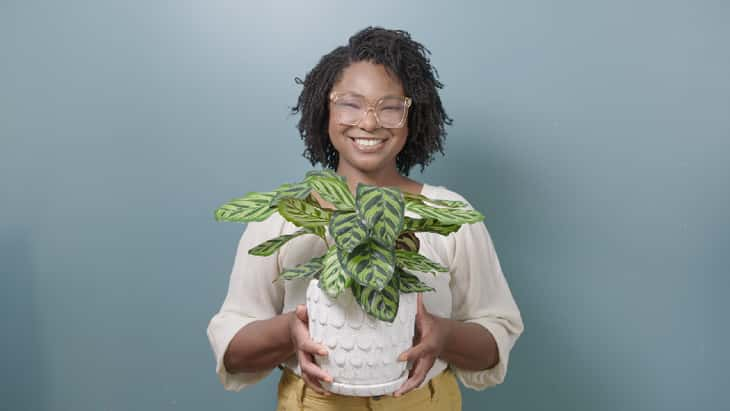 Beyond the basic configuration though, every vee relationship is a lil bit different: Some vee relationships are closed, meaning, nobody in the vee has any partners outside of the relationship. Other vee relationships are open, meaning that all (or some) of the folks in the vee are also dating other people. "In the case that the vee features one or more monogamous people, part of the vee may be open, while the other part may be closed," Taylor says.
What does a vee relationship look like IRL?
For the trio behind the polyamory-focused Amory podcast, Megan Bhatia, Marty Bhatia, and Kyle Henry, their vee relationship follows a structure they've coined "Kitchen Table Polyamory." "We really prioritize communicating—the three of us talk, and we talk to each other's partners," says Megan, who is married to Marty, has been in a relationship with Henry for several years, and is the hinge in their vee relationship.
Marty and Henry talk at least once a week. "It's not scheduled or anything," says Megan. "But they realized that they need that connection." Megan communicates with her partners' partners, or metamours—that is, Marty's additional partner and Henry's additional partner—less frequently, "but we still WhatsApp each other, reach out when we need support, and there's been more communication as the relationships have evolved," she says. This degree of communication, she says, "allows us to continuously check with each other about our evolving needs and how we can establish trust within our relationships even more."
Of course, as with any relationship structure, communication goes far beyond verbal chit-chat. There's love, and desire, and sexual play, and conflict. "Our relationships follow the processes of following in love," she says.
Now that you're intrigued by a vee relationship, well…now what?
There is no single correct next step to take. "The beauty of polyamory is that it allows you to create a new script for yourself," Megan says. That said, if you find steps and tips helpful, read on for five.RELATED STORIES8 Books About Polyamory That'll Answer All Your Questions About Opening up…Identifying As Queer in a Straight-Passing Relationship Exposed Me to the Isolating…
1. Start a conversation
"When we talk about seeking out a vee relationship, what we're talking about is becoming non-monogamous," says Taylor. "So rather than starting by introducing vee relationships to your partner you're monogamous with, start by talking about polyamory as a whole."
Some lines to try:
"I recently listened to a podcast about polyamory and it's something I find myself really intrigued by. Would you be open to listening to the podcast and discussing it with me later?"
"I recently read an article about polyamory and while I'm not sure it's right for us, think it might be fun to discuss. Would you be open to reading the article?"
"Have you ever thought that monogamy might not be right for you? A friend of mine recently opened up her marriage, and so I've been thinking about monogamy as a whole."
2. Read (or listen) up
Megan and Marty didn't pick up a book on polyamory until after they'd already decided to try ethical non-monogamy for themselves, but Taylor recommends folks interested in any style of polyamory check out books on the subject.
Aural learners can, of course, listen to the audio-book version of the books. Or, try listening to podcasts on polyamory like Megan, Marty, and Kyle's Amory. "We started Amory because our new knowledge and experiences were busting out of us, and we could not hold them inside us anymore," says Megan. "The benefit is that other people can learn from them, too, no matter where they are in their journey."…
more…
What To Know About Vee Relationships, the Polyamorous Structure Some People Swear By