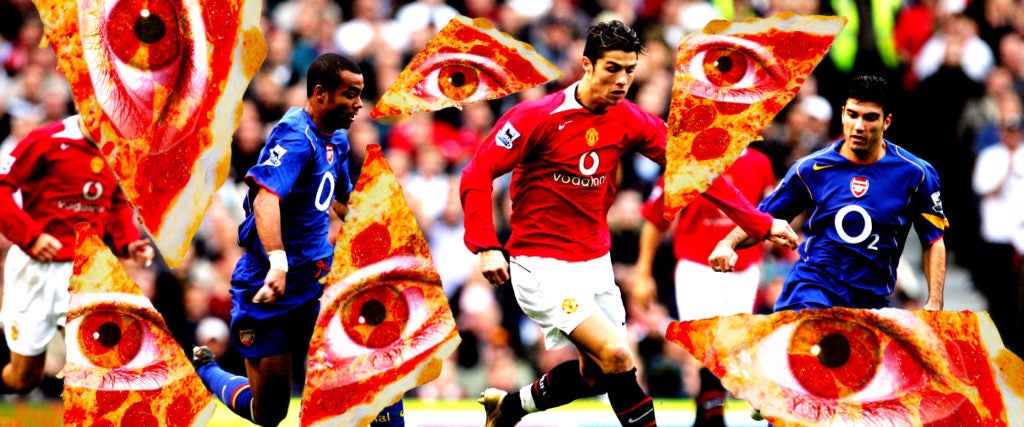 16 years ago, two high-profile soccer teams saw their heated rivalry explode. Unlike the modern Pizzagate, however, there was actual pizza involved
by Tom Victor 
The beauty of language often lies in its fluidity, especially when discussing cross-Atlantic cultural reference points. The old saying about the U.S. and U.K. being two countries separated by a common language has never rung truer than with these cultural curios: While the initials AOC have long been shorthand for Alexandria Ocasio-Cortez on one side of the ocean, those to the east of the Atlantic have been forced to train their mind to no longer read it as a reference to England soccer player Alex Oxlade-Chamberlain. Dennis the Menace will always be a comic about a young boy who constantly gets into trouble in the U.S., and an entirely unrelated comic about a completely different young boy who constantly gets into trouble in the U.K. (for what it's worth, the British version debuted a decade earlier). And the term "Pizzagate," whose meaning now is unmistakable, once meant something very different in the British media.
The -gate suffix serves the same purpose in both instances — that cultural pattern was never lost in translation — but in the U.K., or at least in England, it has long referred to the fallout from a heated soccer match between Manchester United and Arsenal, and the infamous throwing of a slice of pizza.
Back in October 2004, when the incident occurred, Manchester United and Arsenal were the dominant teams in the Premier League, each winning two of the previous four championships under the guidance of iconic managers (Sir Alex Ferguson at United and Arsène Wenger at Arsenal). When they faced off in October of that year, though, there was far more on the line.
Not only had Arsenal won the title in the 2003-2004 season, but they had done so without losing any of their 38 games. To put that into context, they were the first team to achieve this feat in more than a century. However, this wouldn't have been possible had Manchester United striker Ruud van Nistelrooy not missed a potential game-winning penalty kick against them the year before, sparking a brawl between the two teams that ensured bad blood remained. A chance for revenge was on the table when Arsenal returned to United's Old Trafford stadium.
"We always knew the next game at Old Trafford the season after was going to be a battle," Wes Brown recalls. Brown, an England international defender who played more than 300 career games for United, was on the bench for the October 2004 meeting, which carried an extra element of tension: If Arsenal were able to win or tie the game, they would extend their unbeaten run to a huge 50 Premier League games.
"It was a great achievement anyway [going a season unbeaten] but to play us on the 50th game was something where it was in our control to stop it," Brown adds. "I'd be lying if I said we weren't really bothered. It's just that it landed on us [the 50th game], and we didn't want it to happen at Old Trafford. There was a bit of tension from the year before, with what happened to Ruud, and it was a game we were determined to win."
"Everyone knows they had a great season," he continues. "But we went into that game knowing we wanted to beat them, we wanted to stop that run, and even though they had a brilliant team, we just didn't want them to do it on our home pitch. And it got intense."
The tension was felt strongly away from the pitch as well, with nearly 70,000 fans packing into the stadium that Sunday afternoon. One of those fans was Tim Stillman, now an Arsenal writer and podcaster, who remembers how — as soon as the fixture list for the 2004-2005 season was announced in June — his fellow supporters did the quick math and figured out the United game could represent the chance to make it 50 unbeaten.
All of which is to say, when the game started, things were at a breaking point — and the controversy around the opening goal, a disputed penalty, won by United and England forward Wayne Rooney, tipped it over the edge…
more…
https://melmagazine.com/en-us/story/pizzagate-arsenal-manchester-united-football