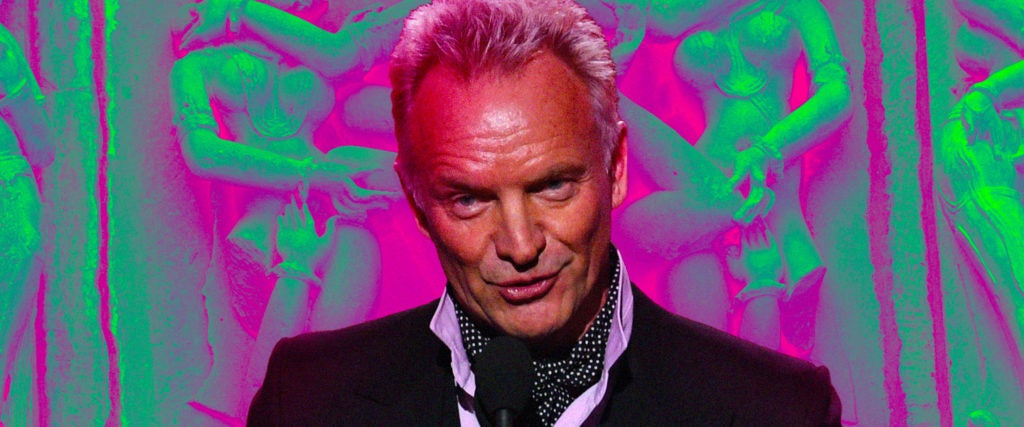 From hours-long tantra sessions to a worshipful, open celebration of the clit, Sting's sex life set new standards for male sexuality. But has he finally found release?
When I was a child, nothing confused me more than Sting. I distinctly remember seeing his face — an earnest black-and-white portrait — staring intensely out at me from beside my mother's stereo. It was an image from his 1994 greatest hits album, Fields of Gold, a record that, whether I liked it or not, was played for much of my first decade on this earth.
I felt confused for a number of reasons. It wasn't just the fact that Sting's music sounded like the soundtrack to a bread commercial, with wheezing panpipes and bewildering, husky wails. It was more the incongruity of his presence in my life. My mother loved music and had otherwise pretty good taste — artists on regular rotation included David Bowie, Stevie Wonder, Marvin Gaye and Janet Jackson — so Sting felt like a strange addition to her CD tower. What was her weird obsession with this serious, slimy-looking blonde guy? He couldn't even sing words properly. And why did he love squinting so much?
For many in her generation, though, Sting was — and remains — a steadfast musical icon. The British singer has been writing easy-listening anthems for over four decades, releasing songs as both a solo artist, and as a part of the 1980s new-wave trio, The Police. You're guaranteed to have heard his music somewhere — even if that's just through Family Guy, the "Roxanne" drinking game (girls drink on "Roxanne," guys drink on "red light") or via P. Diddy's famous 1997 sample, "I'll Be Missing You." Even today, Sting's melodies are being revisited — most recently on Juice WRLD's 2018 track "Lucid Dreams."
But it's not just about his music: Sting is also notorious for his sexual prowess. In the early days of his career, this sultry magnetism was radiated in more subtle ways, with the musician often showing off his toned physique in slashed tanks and topless photoshoots. In his music videos with The Police, he would dance in candlelight and gyrate against his mic stand. It's also present in the band's lyrics, with their suggestive songs about trying to contain their sexual urges around young girls ("Don't Stand So Close to Me") and relentlessly stalking the object of their desire ("Every Breath You Take"). 
Once Sting went solo, though, all subtlety went out the window. Over the last three decades, the musician has become known for his penchant for both punishing yoga and tantric sex — two activities he (supposedly) practices regularly with his wife, actress Trudie Styler. The sex, in particular, is something that he has spoken about openly, and on many separate occasions. He's called it a "spiritual act," discussed his love of "dressing up" and referred to Styler as his "connection to the sacred." He's also made plenty of references to edging and "four- or five-hour" sex marathons. Styler, too, has spoken smugly about their sex life, telling Howard Stern that the pair enjoy sex parties and strip club trips (an apparent joke, but one that Sting refused to deny).
It gets more explicit, too. In one feature with Cosmopolitan from 1996, Sting stripped to his underwear and began doing yoga sun salutations in front of the journalist. He then serenely began sharing his sex tips, with a candor that's still rarely seen by mainstream pop stars. "It's not all about penetration," uttered the singer, sagely. "Penetration for a woman isn't the most satisfying thing. Stimulation of the clitoris is the thing — it's vital." This loud, proud broadcasting of his sexual escapades has become almost more famous than his music and is a habit that he knowingly indulges. Even if it's all publicity, he's clearly doing something right: Sting has been married to Styler for more than 30 years.
Weirdly, however, most fans I speak to don't seem all that impressed with all his celestial sex-speak. For my mum, it's even a turn-off — a desperate kind of pseudo-sensuality that makes him come across as cheesy and pretentious. "Oh no," she shouts, audibly cringing on the phone when I bring up his tantric sex habit. "That's really not attractive. So embarrassing — I hated when he started talking about all that."…
more…  
https://melmagazine.com/en-us/story/sting-tantric-sex-edging