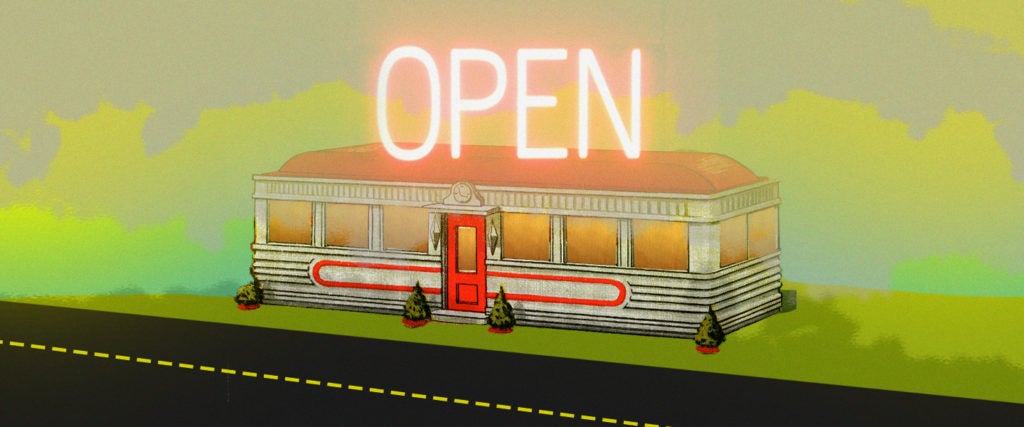 by Eddie Kim 
These three resilient, relentlessly optimistic restaurateurs certainly think so. But they also believe it will take bold, urgent action from the government to make it happen.
When my parents bought a restaurant five years ago, the intention was never to turn it into something truly great.
Auntie Pasto's is a decent red-sauce Italian joint that I ate at once a month while growing up in suburban Hawaii, and I was surprised to hear that they had bought it in semi-retirement after selling off a sushi franchise they had built over the previous 15 years. They wouldn't have to be so hands-on this time — my mom wasn't about to join the kitchen and sling chicken parm with the line cooks, and my dad viewed the investment as a useful income stream that would buoy their golden years with minimal changes. Yet I was stunned at their apparent addiction to an industry that can only be described as a massive pain in the ass. Did they really want to stay in the game, after dodging disaster and debt so many times?
"Well, what are we supposed to do? We've run a small business our entire lives, mostly in dining. You want me to start selling stock?" my dad replied, literally chortling at the thought.
Then the pandemic hit, and they learned in cruel fashion how bad timing can derail a seemingly comfortable future. Thankfully, their neighborhood restaurant didn't require tourism dollars to function, unlike vast swaths of Honolulu's hospitality market; hell, most Italian food packed up just fine for takeout and delivery, anyway. But orders dropped by 70 percent, and the loss of in-person dining meant that my parents had to lay off more than half their staff.
Looking to cut even more costs in survival mode, my dad now purchases and delivers a lot of kitchen inventory himself. I hate the thought of him constantly heading to Costco with a mask on, hoping to sweep up deals on ingredients. Then again, I'm also relieved that my parents are dealing with a generous independent landlord and able to stay afloat. Given that they got barely any PPP loan dollars from the government, it feels like a minor miracle. They know friends and peers who haven't been so lucky.
"It felt like the government, both in Hawaii and in D.C., had no imagination, no creativity, no backup plan, no nothing. Your mom and I sat at home watching news reports of what's happening in New Zealand or Europe, with people getting real advice and money to survive. It felt like an insult by America. And it still feels like that," my dad tells me over the phone this weekend.
I heard my mom murmur in agreement. "We had to figure everything out ourselves. Who and how many to lay off, what help we can give them with unemployment money, problems with our vendors and inventory, opening the dining room, closing it, putting chairs outside, not putting chairs outside," she interjects. "It feels like we're all alone, and everyone has a different situation, but it's just hard. Too hard. It's not right."
As the crest of the pandemic hit America in April, the restaurant industry lost three decades' worth of job growth seemingly overnight. Nearly six million jobs disappeared, and while there were flickers of recovery in the summer, the winter swell has led to more job losses in November. By some estimates, a quarter of all independent restaurants will have gone extinct by the time we're through this economic and health crisis.
In the hopes of brainstorming the blueprint that will get us out of this mess, I reached out to a dozen different chefs and restaurateurs, looking to glean specific insights and policy ideas. Instead, what emerged was a tableau of commonalities — frustration at being left alone in the dark, a desperation for government aid and a restless optimism for the future, marred by the scars already left. Nobody told me they regretted owning a restaurant, even my parents; instead, they underscored the need for bolder, more urgent thinking when it comes to supporting an industry that every American interacts with. 
Since L.A. is currently the COVID capital of the world, I figured it would be wise to give the mic to three of my favorite restaurateurs in the city — a Michelin-star chef with a global audience; a first-time owner of a local bar and cafe; and a longtime restaurateur whose experience bridges the gap.
I asked them one simple question: How do we save American restaurants in 2021?…
more…  
https://melmagazine.com/en-us/story/restaurants-coronavirus-pandemic-crisis