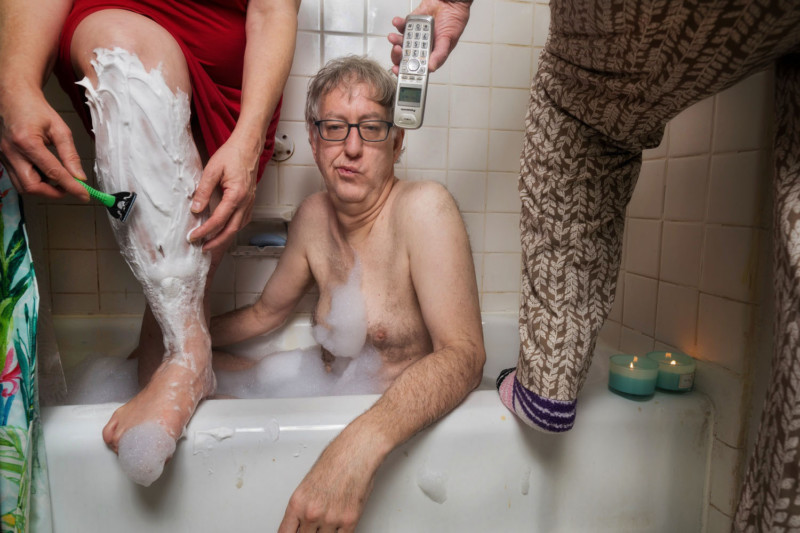 by Phil Mistry
Neil Kramer has spent close to a year quarantining with his ex-wife and mother in a two-bedroom, one-bathroom Queens, New York City rent-controlled compact apartment. This has produced a sitcom of chaotically humorous photographs that are actually based on real-life situations that have occurred while they are holed up.

His mother usually spends winters in Boca Raton, Florida, but when her plans fell through, she asked her son if she could stay with him for the winter. At the same time, his ex-wife, who was in California, had a roof leak that destroyed her apartment, and she asked if she could come and live with him temporarily.
"At first, she was just staying here a few weeks," Kramer, an event/street photographer and TV writer, tells PetaPixel. "Then the pandemic hit and realized that she was too scared to be alone and looking for an apartment in LA, so basically stayed here… we didn't realize it would end up being a year."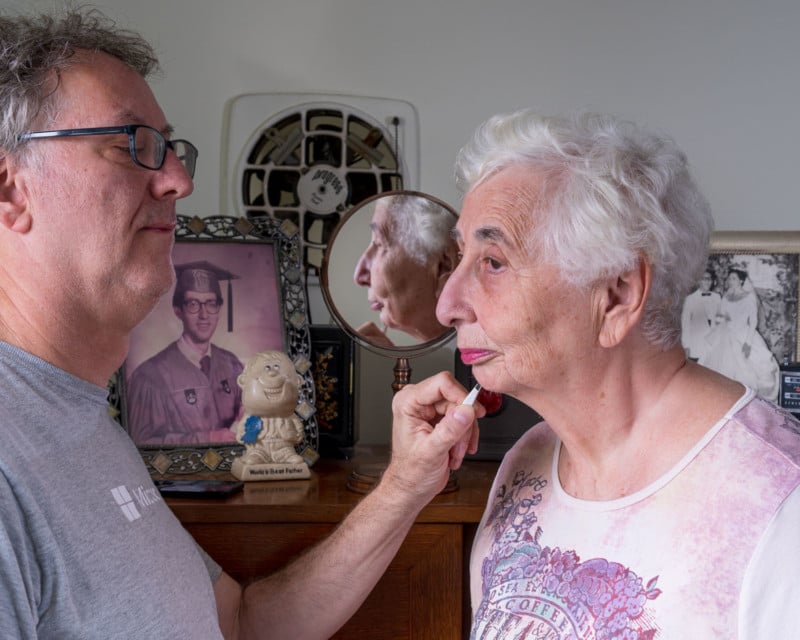 Mother Elaine took the master bedroom, and the ex-wife, Sophia Lansky, the other bedroom. Kramer was relegated to the lumpy couch in the living room. This living situation soon became stressful. His kooky coronavirus pod was not working, and Kramer considered family therapy.
But instead, Kramer decided to use phototherapy! They would recreate a stressful situation that had occurred in the recent past and do a complete photoshoot with mother and his ex-wife, Sophia, a Hebrew and Russian language translator and actress. Maybe he figured that if they rethought it, they could resolve it.
I actually started the project more documentary style, but it just didn't work. I realized that a photographer has to be somewhat an observer, and when we are scrubbing groceries, no one wants the photographer just standing there taking photos. It's like that perennial case of the photojournalist who captures the guy dying on the street but doesn't help. So was pushed to use my more film school approach of restaging stuff.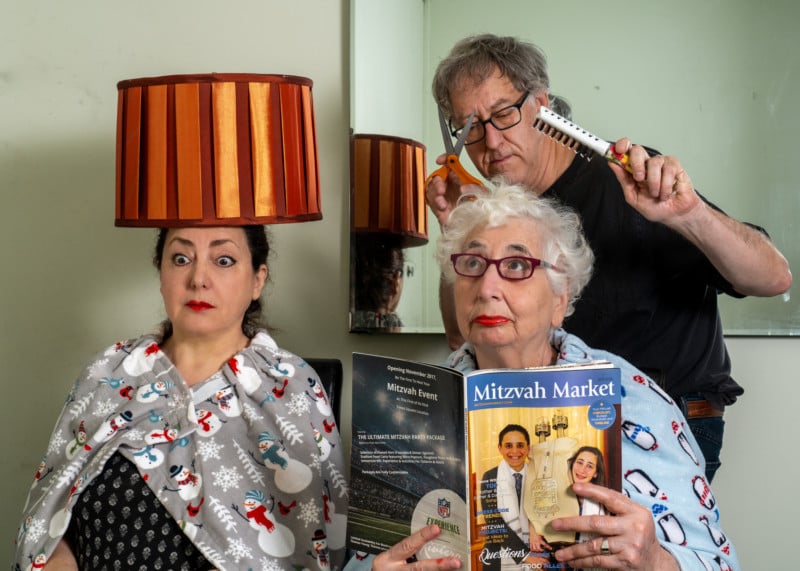 How did his ex-wife even agree to these crazy photo sessions?
"Well, she knows me as a slightly crazy artsy type, so it wasn't surprising," the photographer says. "But she figured it was just going to be seen by a few friends on Facebook."
And then it went viral on the web.
Kramer has a Sony Alpha a6400 with a Sony E 35mm f/1.8 OSS, Sony E 50mm f/1.8 OSS, and a Sigma 16mm f/1.4 DC DN Contemporary Lens with a Godox Speedlight and a Neewer softbox. He started with the Sony Alpha a5100 and then the Sony Alpha a6000.
"To be honest, once I bought a few lenses, I got too cheap to upgrade," Kramer says. "If I can do more work, I will immediately get a newer full-frame Sony."…
more…
A Photographer's Hilarious Photos of Being Stuck in Quarantine with Ex-Wife and Mother