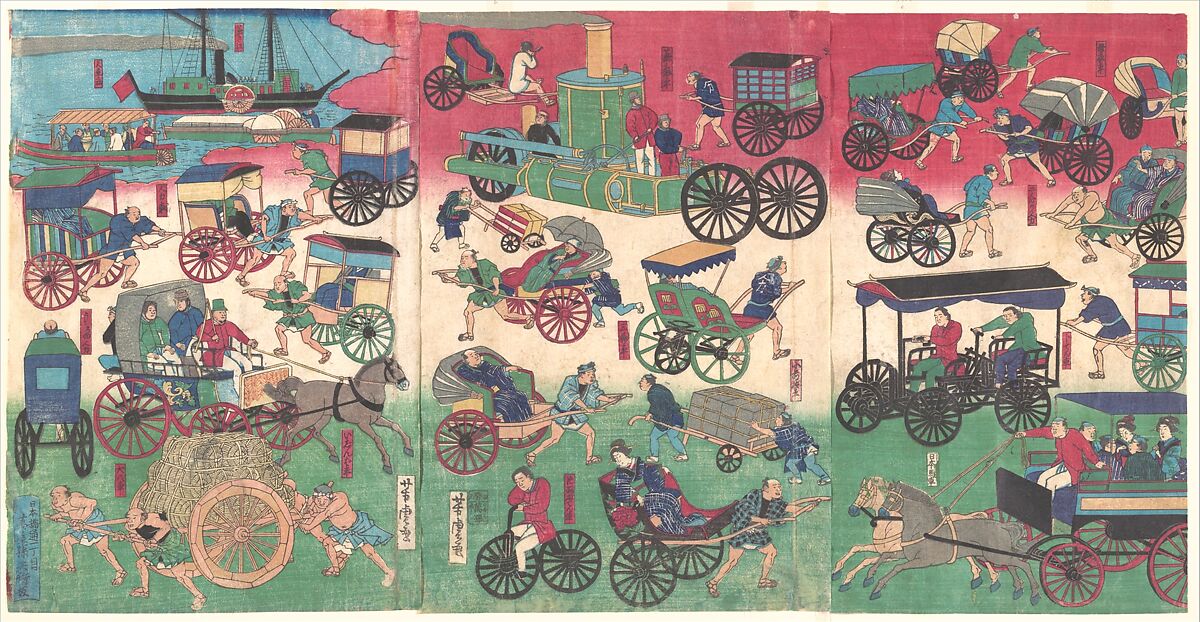 Americans liked to believe that Japan was Westernising through the 20th century but Japan was vigorously doing the opposite
by Jon Davidann is professor of history at Hawai'i Pacific University. He is the author of Cultural Diplomacy in US-Japanese Relations, 1919-1941 (2007), Cross-Cultural Encounters in Modern World History (2nd ed, 2019) and The Limits of Westernization (2019). He lives in Kailua.Listen here
Edited by Sam Haselby
In 1860, Fukuzawa Yukichi, a young Japanese student still learning English himself, accompanied the first ever Japanese diplomatic mission to the United States as its English interpreter. This American encounter, along with a second trip with a Japanese Embassy to Europe in 1862 and a third trip back to the US in 1867, greatly influenced his thinking about Japan and its future. Although Fukuzawa thought that Westerners' manners were dreadful, he admired their independence of thought and open discourses. On his trips, he focused not on Western philosophy and science, knowledge he thought he could absorb by reading a book on the subject, but on the more practical side of US and European affairs. Who paid for the expenses at a hospital? How was money deposited in a bank and loaned out? It's an early indication of how Fukuzawa treated Western ideas. He exhibited a pragmatic curiosity about things and notions from the West. They might work for Japan, or they might not; they could be used or tossed away.
Fukuzawa's experiences in the West and his perspective as he eventually became the intellectual founder of modern Japan raise an important question about Westernisation, which was akin to today's globalisation, but heavily tilted toward Western influence. Did non-Westerners adopt the West's ways, or did they, like Fukuzawa, question and critique, embrace and reject as they saw fit?
From the viewpoint of Westerners, this was no question at all. The West, especially the US, exerted a defining influence on the world in the 20th century. The immense force of Western institutions – capitalism, democracy, Christianity – stamped itself on other parts of the globe, creating independent democratic nations committed to freedom, end of story. Or is it the end of the story? If 21st-century world trends are any indication, we might have badly overstated Westernisation's influence and achievement. The success of the non-Western response to COVID-19, especially in East Asia, where countries have remained open while containing the virus, shows the strength of regions outside the West. Along with the appearance of authoritarianism and crony capitalism in some parts of the West, it brings up questions about the dominance and the capability of the region.
The case of Japan, where debates about Westernisation started in the late 19th century, is worth examining for no other reason than it seems to be the perfect example of a country that accepted the Western way of life. One commentator, Henry Field, suggested in the 1890s that Japan's islands, with their rapid industrialisation and adoption of Western ideas, were like ships being unmoored from Asia, sailed across the Pacific, and attached directly to the western edge of the continent of North America. This geographical metaphor is a bit rich, but it neatly illustrates how deeply myopic Westerners were about Japan's Westernisation. The problem with this vision is that it was primarily the work of Western intellectuals, journalists, businessmen and policymakers. Henry Luce, a powerful public opinion-shaper as the Time-Life publisher who grew up in China the son of missionaries, encouraged US influence when – in an editorial in Life magazine in February 1941 – he urged Americans to make the 20th century an 'American Century'.
When one looks beyond Western views, however, we find that almost no Japanese blindly accepted Westernisation. What did the Japanese think about their nation being on the cusp of Western life? They were much less sanguine than Western commentators imagined. Fukuzawa has been widely described as a Westerniser. Even though he resembled a Westerner to some, Fukuzawa's world, in fact, looked very different from that of the West.
Born into a lower Samurai family in Osaka in 1835, Fukuzawa Yukichi grew up at a time of political disturbances and family disappointment. After a series of crop failures during a famine, a rebellion erupted in 1837, and large parts of Osaka were burned. The uprising failed, but the Tokugawa regime (1602-1868) emerged from the 1830s considerably weakened. Fukuzawa was also profoundly influenced by his father's experiences in the local clan: he was an accountant but dreamed of becoming a scholar; however, his lord refused to allow him to undertake scholarly studies…
more…
https://aeon.co/essays/is-westernisation-fact-or-fiction-the-case-of-japan-and-the-us