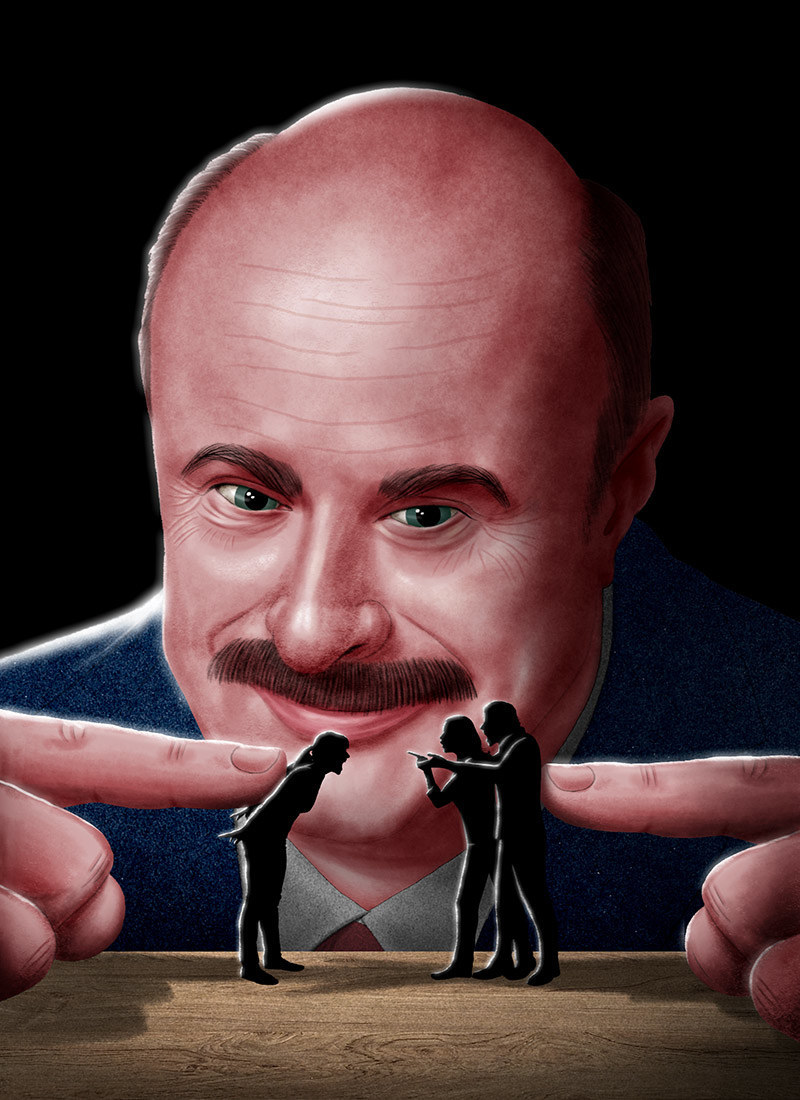 Dr. Do Nothing
The popular daytime TV show seems to exploit the vulnerable people coming on the program for help.
In mid-February, Dr. Phil aired an episode about a 56-year-old woman named JoLynn with an alcohol addiction. But unlike other shows — or even an old Oprah episode — she isn't coiffed or remotely prepared for the interview. She's very clearly intoxicated, disheveled, and isn't wearing any shoes. She rambles and at one point, starts to walk away from her chair. When Phil McGraw (more commonly known as Dr. Phil) asks her repeatedly where she's going, she looks like a lost child. "I don't know," she says, over and over again. It's not entirely clear why she came to McGraw of all people for help, and the show seems far more inclined to zero in on her confusion and intoxication.
Dr. Phil premiered nearly 20 years ago as an Oprah Winfrey–endorsed platform for McGraw. McGraw holds a doctorate in psychology, but stopped renewing his license in 2006, and has never held a valid psychology license in California, where the show is filmed. (A spokesperson for Dr. Phil confirmed that he ceased renewing his license in 2006 "as he no longer worked as a therapist.")
Early episodes featured couples in troubled marriages, people trying to lose weight, and other topics relevant to the show's target demographic of people available to watch an hour of television at 3 in the afternoon. McGraw would sit with his guests and offer "psychological" advice, masked in the approachable language of a life coach or high school guidance counselor. He's not actually anyone's doctor, but he speaks with the authority of someone who thinks he is.
If you have more information or a tip regarding your experience on Dr. Phil, contact scaachi.koul@buzzfeed.com, or reach us securely at tips.buzzfeednews.com.
I started watching Dr. Phil in junior high, an after-school activity my mother made me do with her as some botched attempt to get us to talk about "serious topics." She made me watch the teen episodes in particular — ones where young girls were seduced by nameless gangs (this was not a risk for me) or hard drugs (weed, it was only ever just weed). After an awkward hour of watching McGraw berate the parents, my mother would turn to me and ask: "So what did you learn?" The real answer was "absolutely nothing," but the one that got her off my back was "don't go near a boy."
In my adulthood, I started watching the show again just as a kind of familiar background noise, and discovered that it had morphed into something much more caustic and ugly. There are episodes exploiting people's devastating alcohol addictions, older men and women getting catfished by a fake Nikki Sixx, and a constant parade of "bad teenagers" eventually set right after being referred to a horse-centric boarding school. The show's sole purpose is now seemingly all about displaying people's difficulties in their crudest forms, and less about actually trying to help them.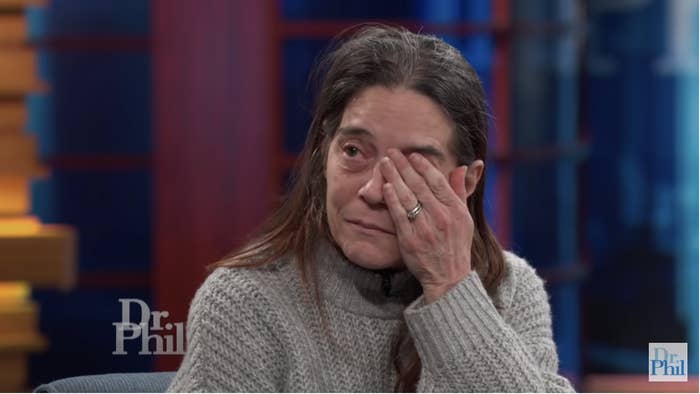 Dr. Oz, possibly the other worst thing Winfrey unleashed upon an unsuspecting public, gets most of the smoke when it comes to talking about the failure of television healthcare professionals. Don't get me wrong, Oz deserves it: He hawks vitamins you don't need, anti-science rhetoric about weight loss and hydroxychloroquine, and even argued that increased deaths due to schools opening mid-pandemic might be worth it. But while Dr. Oz has faced plenty of controversy, McGraw continues to thrive. In 2020, McGraw made $65.5 million, all on the backs of thousands of people who came to him and his producers, desperate for help. He's signed on to host the show through to 2023, into Dr Phil's 21st season.
Mental healthcare around the country is lacking. Affordable care is hard to access, and that's if you have any coverage at all. Television therapy, then, is what people get instead, and McGraw doesn't just give bad advice, but he openly mocks the people coming to him for help. What may have started as a show intended to make therapy and open communication more accessible to people at home has warped into a creepy, exploitative program. Worse, his focus on women and teenage girls who have been abused means the show is now designed to go after people who can rarely defend themselves against a television behemoth. Dr. Phil is just Jerry Springer in a better suit.
He's also still incredibly successful — in July 2019, Dr. Phil hit 150 weeks as the top-rated syndicated daytime talk show, with an average daily audience of 2.9 million viewers. Even in reruns, he kills.
A reconsideration of McGraw's work has sort of begun, but his critics tend to get more attention when the targets of his "advice" are well known. In 2016, when The Shining star Shelley Duvall — who has been vocal about her mental health struggles — was featured on Dr. Phil, other celebrities spoke out about how obviously exploitative it was. "There shd [sic] be laws to protect mentally ill people from tv talk show predators like @DrPhil who is exploiting Shelly Duvall for his own gain," tweeted Mia Farrow. Stanley Kubrick's daughter called it "lurid entertainment," asking for others to boycott the show. (In a statement to the Hollywood Reporter in February, a spokesperson for Dr. Phil said, "We view every Dr. Phil episode, including Miss Duvall and her struggle with mental illness, as an opportunity to share relatable, useful information and perspective with our audiences … Unfortunately, [Duvall] declined our initial offer for inpatient treatment that would have included full physical and mental evaluations, giving her a chance to privately manage her challenges.")
For some reason, the Dr. Phil show fancies itself a "teaching tool" instead of a modern-day carnival freakshow designed to make viewers feel better about themselves. McGraw isn't a medical doctor. At best, he dispenses questionable advice to the people who come on his show, and at worst, for postshow care, he refers them to at least one treatment center that is currently facing multiple allegations of abuse. If only McGraw and the show's producers would just be honest about the product they're making, they could really dig in, go for broke, and make the unadulterated reality TV trash they've been inching toward for 19 seasons…
more…
https://www.buzzfeednews.com/article/scaachikoul/dr-phil-mcgraw-mental-health-danielle-bregoli