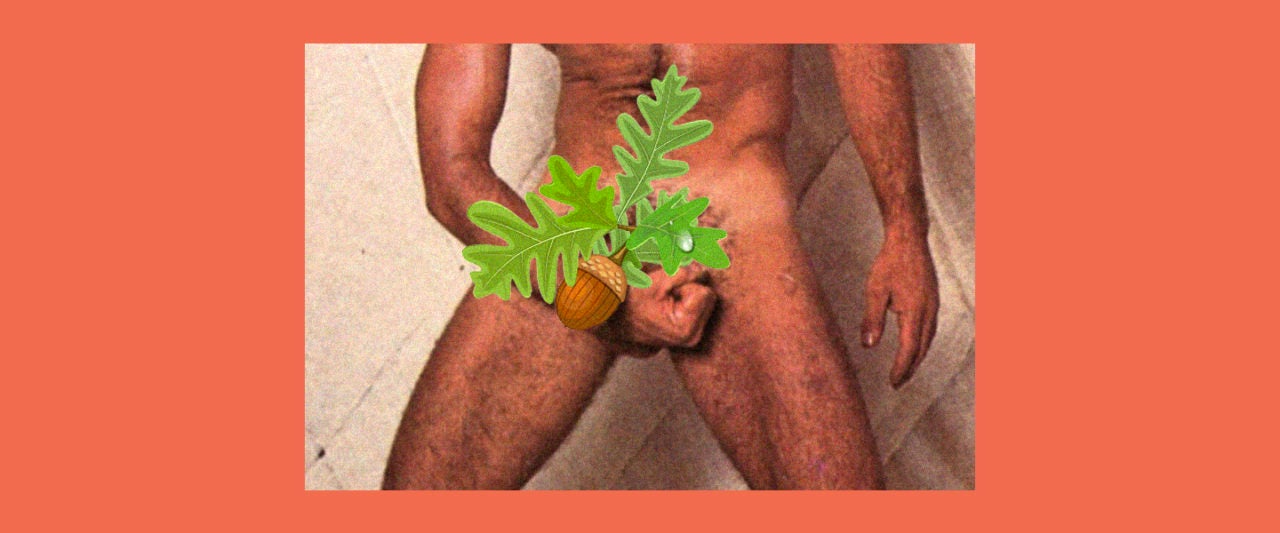 These guys prove BDE can't be measured in inches — and their relieved partners will be the first to agree
Among the more common refrains in mainstream porn is one often uttered by a petite, kneeling starlet, born of this millennium, who's just witnessed her more mature scene partner dropping trow. "Oh my godddd," she'll gasp, perhaps placing her forearm next to the just-unfurled flesh muffler in front of her for context. "I don't know if that's going to fit!"
Though porn producers might try to convince viewers they routinely capture foot-long fuckers on film, most porn star penises aren't nearly that big. Typically, those dicks range between 7 and 9 inches. However, that still means their cocks are clocking in a good 50 percent or so above average. And so, for the consumer who can't exactly relate to the characters chronicled in mainstream adult films, there's an alternative: small-penis porn.
Perusing these videos, pinky-sized gentlemen explore a place to feel proud of their privates — or welcome kinky humiliation. They also might learn how to better utilize their tool, and please their partners like never before.
"It looks foreign to you when the sex looks so different from the sex you've experienced," writes Chaim, a proud and pseudonymous owner of a small penis, in an email. A 31-year-old stay-at-home dad in Arkansas, Chaim is one half of the TinyBigCouple, with his wife, a therapist, serving as his scene partner. The pair began posting homemade sex tapes on Pornhub a few months ago, after years of watching small-penis porn together. His wife, who asked to be identified as Rivka, is billed in the clips as a BBW MILF with whom Chaim conducts intercourse using his 2.8-inch knob.
"A small penis has to be used in very different ways," he explains. "There isn't any bouncing with the girl on top, otherwise you slip out. Blow jobs look odd in porn to me when only a third of the guy's penis is all that fits. Hand jobs look different, too. Everything does, actually."
Chaim says it was Rivka who first suggested they post videos of their lovemaking online. After discovering r/smalldickproblems on Reddit, and observing "men hating their bodies and feeling hopeless" in some comments, he agreed to move forward. Maybe they'll appreciate a positive demonstration of a small penis with a wife, he thought to himself. Maybe it'll show them that they aren't as doomed as they think.
The three clips of TinyBigCouple on Pornhub have garnered more than 10,000 views combined, an unexpected, pleasant surprise for Chaim and Rivka. "It's exciting and gives me hope that once we produce higher quality videos, more people will see them, and the content will hopefully cause some degree of positive impact," he says. He adds they've fielded "an incredible amount of supportive comments," though some derogatory notes have invaded their inbox as well.
"Several men ha[ve] messaged me asking to have sex with my wife so that she can feel a 'real penis,' or a 'real man,'" he explains. "They tell me that there's absolutely no possible way my penis could give her pleasure (oh, it gives her plenty of pleasure). They tell me to look at pics of their penis so that I can see what a 'real man' looks like. They tell me I don't deserve a wife as hot as mine."
Similar backlash has dogged even small-penis porn stars who have been featured in studio productions. "You will find very, very evil and bad, bad comments about me," says 42-year-old porn actor and producer Andy Stone, who says his penis measures about five inches, only slightly below the 5.16-inch average. His porn career began in 2013, but only because adult film studios were after his girlfriend at the time, and she didn't want to shoot scenes with anyone but him. Since then, Stone's primarily appeared in scenes with a few other porn star girlfriends, including his current partner Baby Nicols.
"When I started in porn, all the nightmares and insecurity from my youth came alive again," he continues. "They tried to humiliate me, but the more I read it, the more I want to keep going. I believe I represent a big percentage of men and I make them feel better."
Disparaging remarks about Stone's penis size don't only show up in porn clip comment sections, though. He's heard other male actors express frustration that they're being passed over for scenes in favor of Stone. Some film producers have also chosen not to shoot girlfriends of his because the women have refused to work with a scene partner other than Stone. He says such situations have been a source of tension in past relationships…
more…
https://melmagazine.com/en-us/story/the-big-men-of-small-penis-porn